I didn't do much (okay, any) Halo Mega Bloks New York Toy Fair 2016 coverage, because I was hugely disappointed by nothing that hadn't been previously shown being on display at the actual event. But while the 2016 Toy Fair was a bummer, getting never-before-seen Summer 2016 Halo Mega Bloks sets out of nowhere definitely made up for the disappointment! And the first set I'm going to review corresponds to my inevitable favorite game of 2016: the Mega Bloks Halo Wars 2 UNSC Jackrabbit Blitz set!
The Right:
I felt bad about not providing Toy Fair 2016 Mega Bloks coverage, so I purchased several of the just-released Halo Mega Bloks Summer 2016 sets at inflated rates for review purposes to make it up to readers.
But if there's one set in the new batch I would have bought regardless of the scalper-like price-point, the Halo UNSC Jackrabbit Blitz Mega Bloks set is that one! Halo Wars is my single favorite X-Box branded video game of all-time, so how could I not buy the first Halo Wars 2 toy available from any company, right?!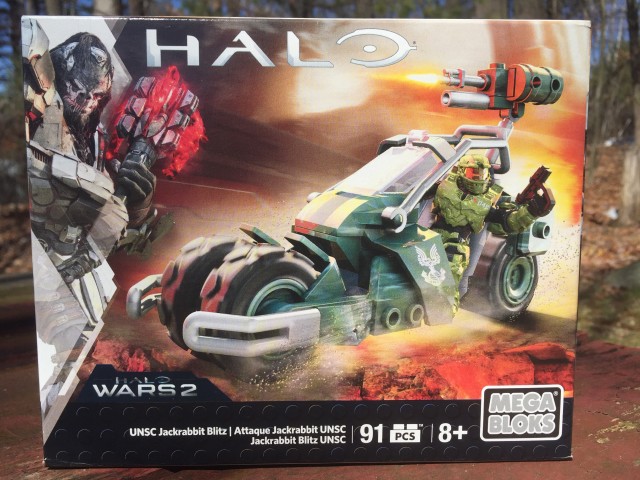 This is easily the smallest of the summer sets, containing just 91 pieces.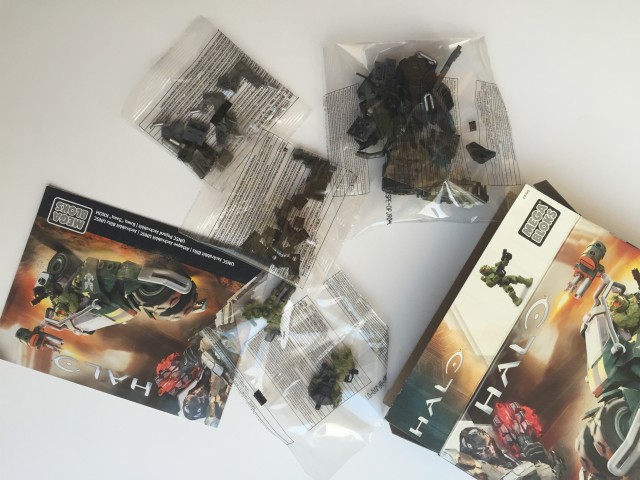 Even at my slow building speed, it took me under half an hour to fully build this set.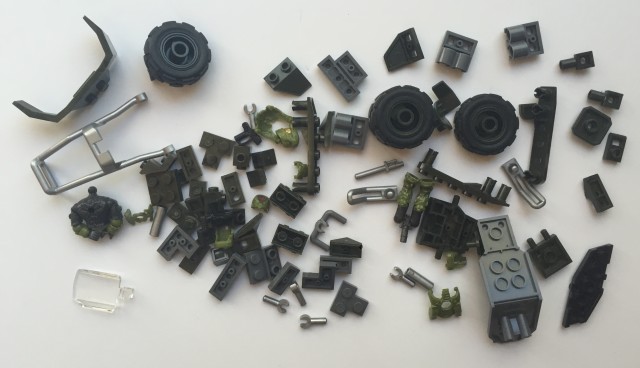 But while this set may be small, that doesn't mean it isn't outstanding!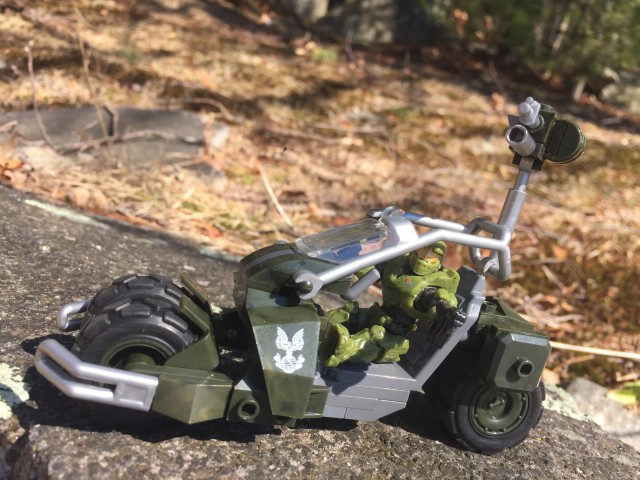 First, let's look at the Halo Wars 2 Jackrabbit vehicle itself. This is a weird three-wheeled bike that is lightly-armed and totally lacking in armor.
The Jackrabbit is clearly a scout vehicle, but unlike the Mongoose, it's actually packing some heat in the form of a machine gun/cannon that can be swiveled to face enemies. I really like having weapons on a scout vehicle, and the swivel on the guns combo has a good range of motion.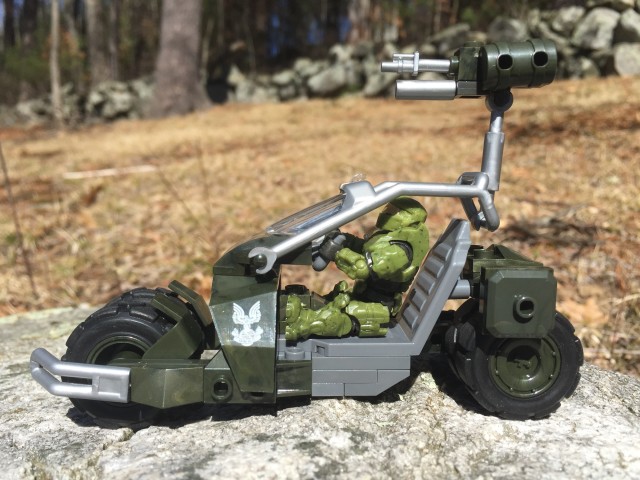 The UNSC logo on the Jackrabbit is printed on–there are no obnoxious stickers or decals to mess around with on this set. Thanks, Mattel!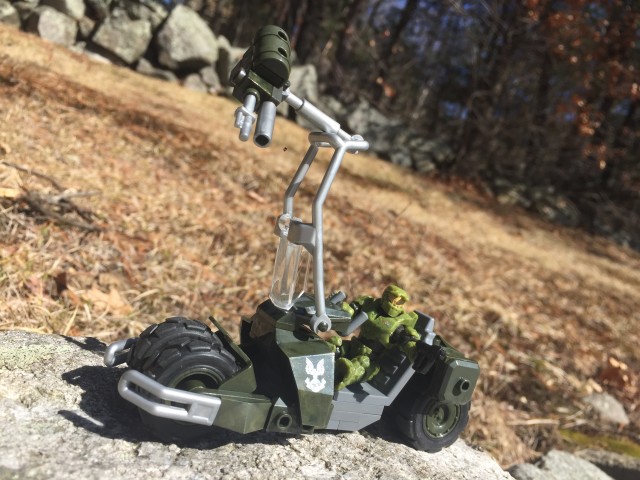 The hatch on the UNSC Jackrabbit came be fully opened and closed–and has to have this feature, as it's impossible to get the Douglas action figure into the driver's seat without lifting the hatch.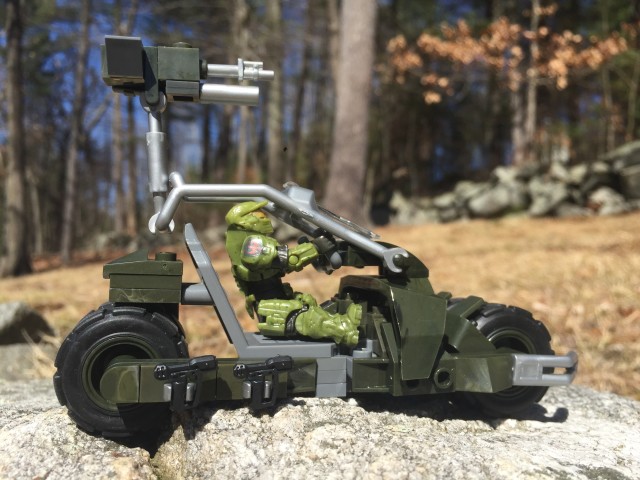 There's also two clips on the sides of the Jackrabbit, enabling it to carry both of the handheld guns included with the set. I love complete weapon storage, so mad props for that capability being present in this tiny set.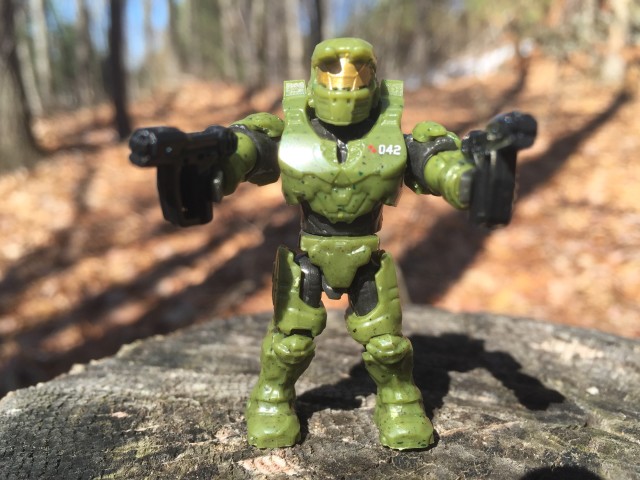 There's only a single mini figure included with the Halo Wars Jackrabbit Blitz, but it is a great one: a Spartan Douglas-042 figure! McFarlane Toys made a Spartan Douglas action figure a few years ago, but this is his first official Mega Bloks toy.
The Halo Wars Douglas Spartan figure features the same level of super-articulation we've come to expect over the past few years of Mega Bloks, and looks excellent.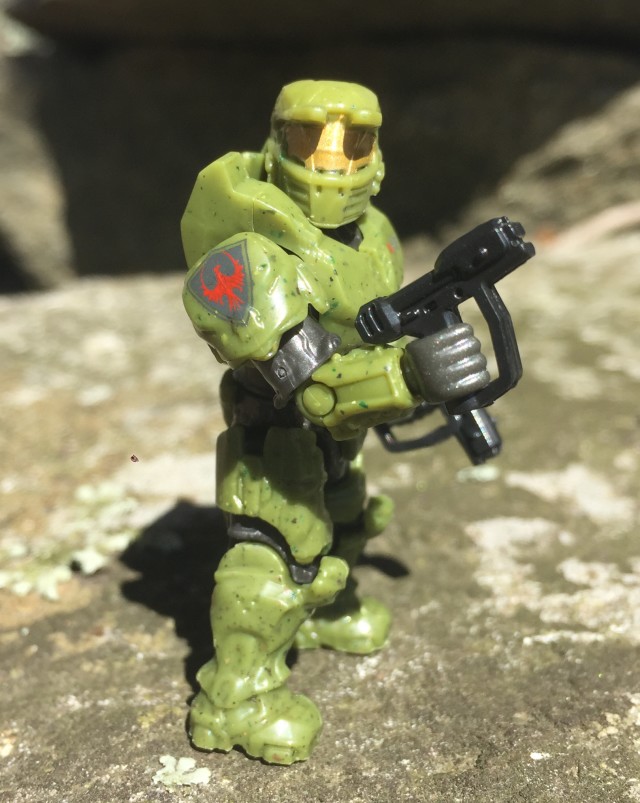 I love that the red emblem is printed on Douglas-042's right shoulder armor, as well as the fact that the figure includes both M6D pistols that the character is famous for dual-wielding.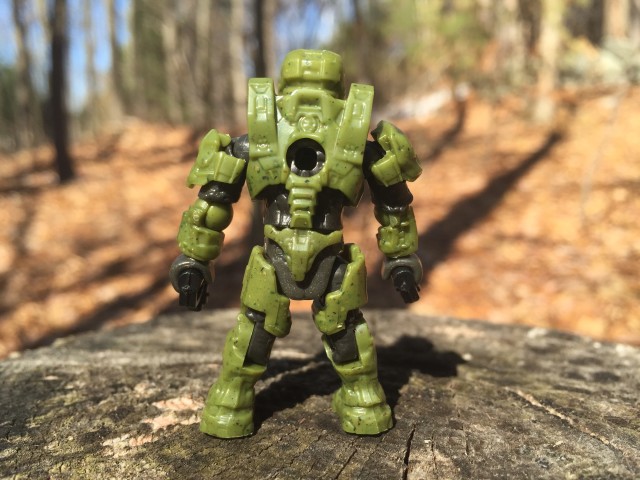 I've waited a long time for Mega Bloks figures of the Spirit of Fire Spartans, and I'm fully satisfied with Douglas. I'll be looking forward to Alice and Jerome (Red Leader) in the next few months!
The Wrong:
I loathe sounding like a sycophant, but there's basically nothing wrong with this set besides the most trivial of things, such as "the block holding on the handlebars pulls off a little too easily".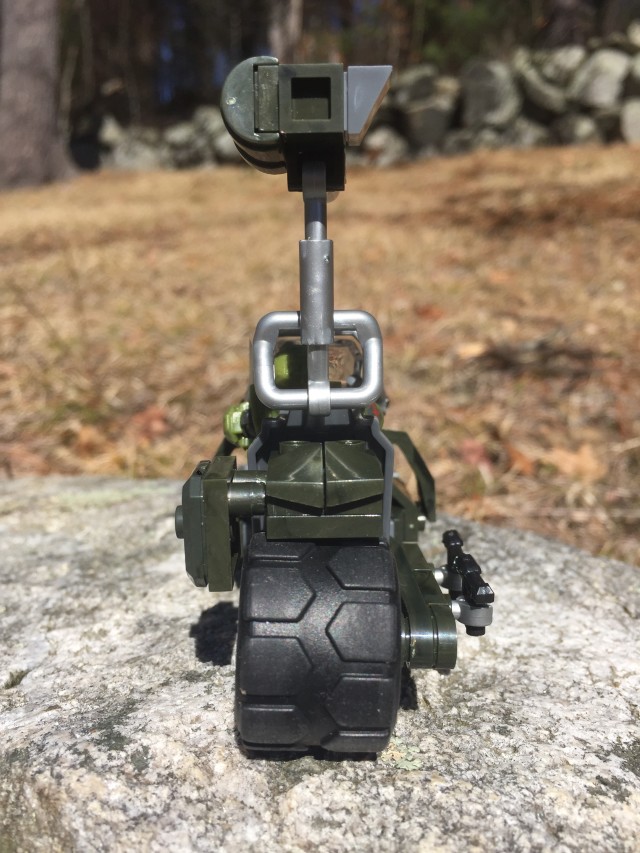 I could sit here and look for tiny things to nitpick, but honestly, there's nothing bad about this set that I feel like doing so about solely for the point of finding something to complain about.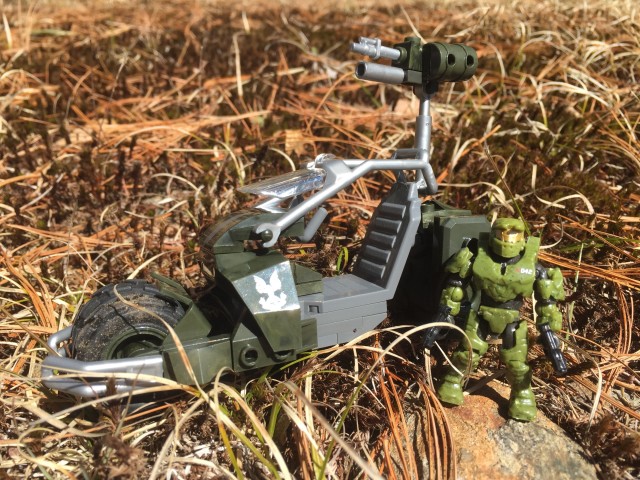 Overall: Let's see, the Halo Mega Bloks UNSC Jackrabbit Blitz set gives us a 100% new vehicle, a never-before-done unique character with two weapons, printed pieces with no stickers, and a tie-in to Halo Wars 2. Yup, it's official: this set is perfect. Bias aside, I have zero genuine complaints about this set. I'm overjoyed to finally have an accurate Spartan Douglar Mega Bloks figure, and the UNSC Jackrabbit vehicle is a fun addition to the UNSC. Even at the inflated price I paid, this set is highly recommended.
GRADE: A+