Mattel Halo Series 1 took the Halo collecting world by storm last month, and while I'm behind on my reviews for the first wave of 6″ action figures, I'm hard at work completing the reviews for the entire wave. And tonight, I want to focus on a figure that can only be built by those who purchase all six figures in Halo Series 1: the unexpected Build-A-Figure of the wave, the Promethean Alpha Crawler! Building this Crawler will be expensive, but is it worth it…?
The Right:
Seeing as how there has never been a Halo Build-A-Figure before
ever
–and certainly not a non-humanoid one–I really did not know what to expect from this Halo 5 Alpha Crawler figure.
With it basically being a "free" figure, would the first Halo Promethean 6″ figure have cheap paint deco or lacking articulation…? Turns out I need not have worried–the paint applications and articulation on this figure are just as strong–if not stronger–than every other figure in Mattel Halo Series 1.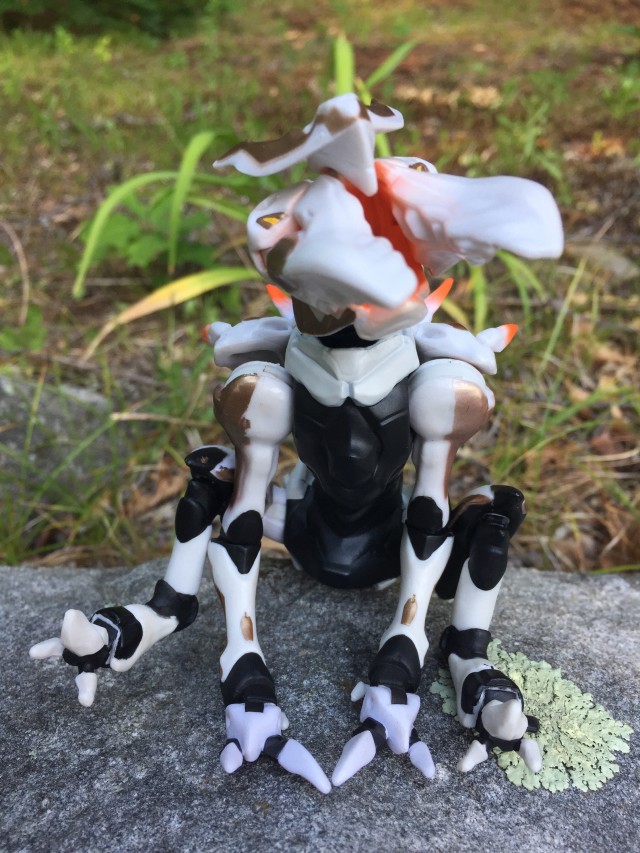 On the articulation front, the Promethean Crawler has much more than I was expecting: two hinged jaws, a ball-jointed head, a ball-jointed waist, four ball-hinge hips, two ball-hinge front knees, two hinged back knees and four hinged feet.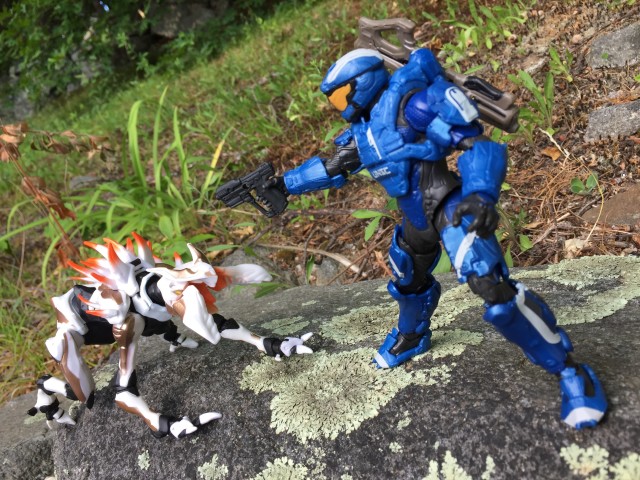 I had been fearing this figure might have a bare-bones articulation scheme with five points of articulation, so to see Mattel give this Forerunner dog almost every possible point of flexibility is a real treat.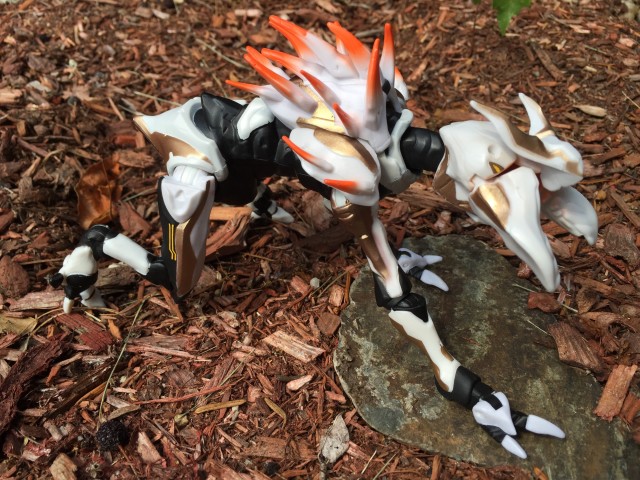 You can pose the Alpha Crawler Build-A-Figure in a variety of fun ways, with my favorites being posing it in a stalking walk or having him sit up straight like a good doggie.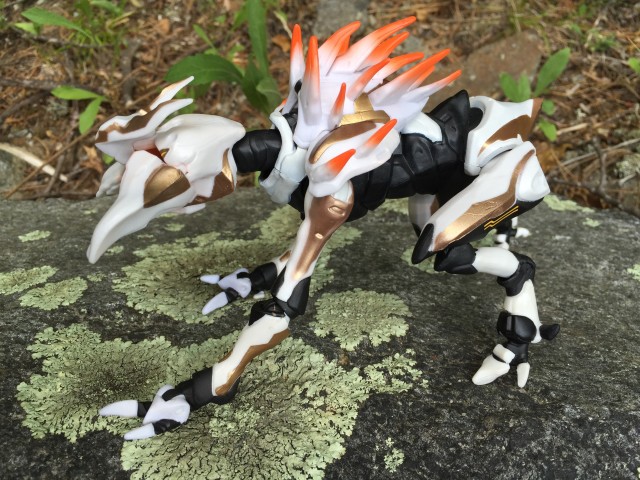 The colors on this figure are also exemplary, with the figure mostly being case in black and sparkly ivory white plastic, with gold and black paint accents for detailing.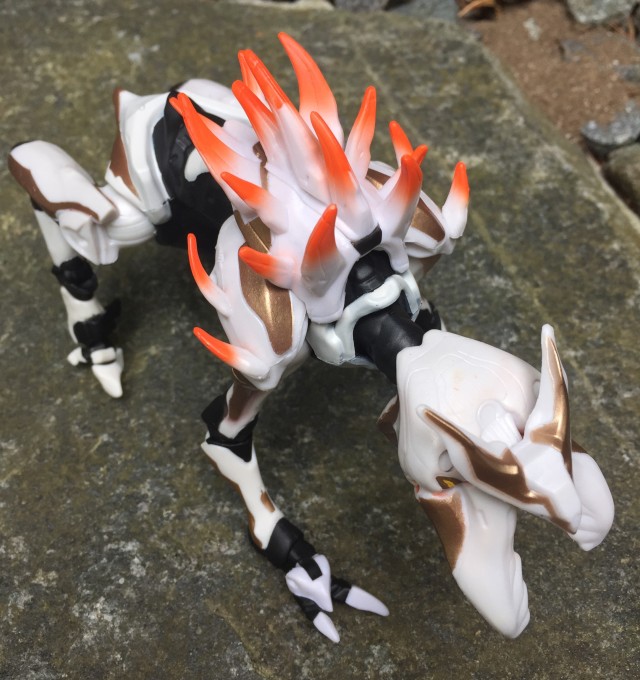 Best of all, though, is the gradient of orange paint on the spikes on the Alpha Crawler's back! These look way too cool and are the most eye-grabbing part of any figure in Mattel Halo Wave 1.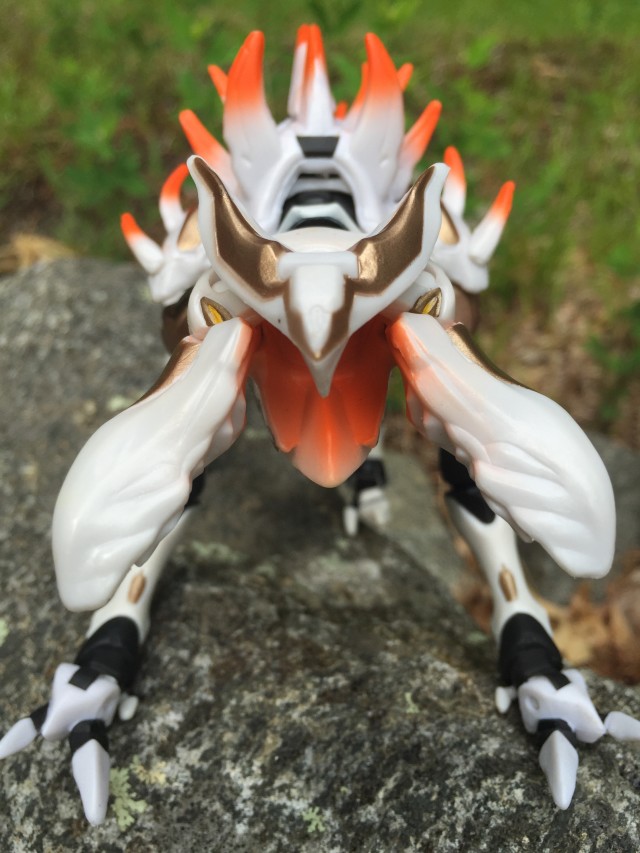 The bright orange paint also appears inside the Alpha Crawler Build-A-Figure's mouth, where it looks quite haunting and terrifying when the Crawler's mouth is fully opened.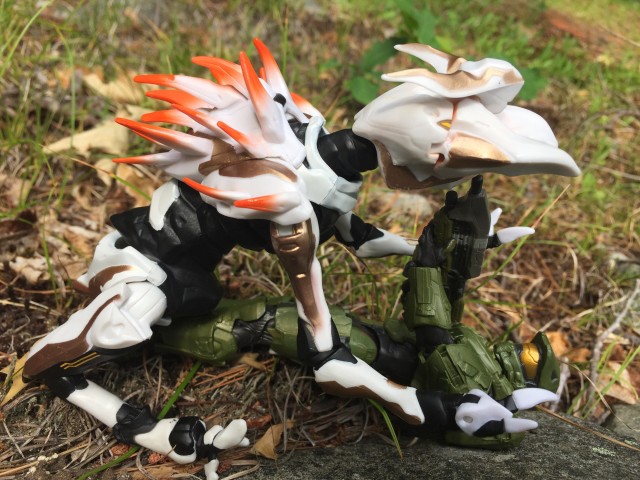 I have a hard time judging exactly how big these Promethean Crawler's are in-game, but the size of this figure seems just right. In a standard crawling pose, the Alpha Crawler figure is around 6″ tall and seems about as large as the Spartans do (although oriented differently, obviously).
Again, I'm not sure if Mattel has nailed the scale on this Promethean here or not, but there's no denying that the BAF looks amazing at this size.
The Wrong:
I'm mostly immensely impressed and pleased with the quality of this Halo Build-A-Figure Alpha Crawler overall, but there are just a few tiny areas where I think there's some room for improvement. For one, I would have liked it if there was some sort of snap-on effects piece you could attach to the Crawler's open mouth to simulate it "firing" at unsuspecting Spartans.
In addition, while the articulation on the Alpha Crawler action figure is very solid overall, the head is on a ball-joint with no hinge and a slightly limited range of motion. It's not a crushing loss, and you can still get the Crawler looking in many directions, but it is disappointing that the Alpha Crawler is doomed to never be able to look up or down freely.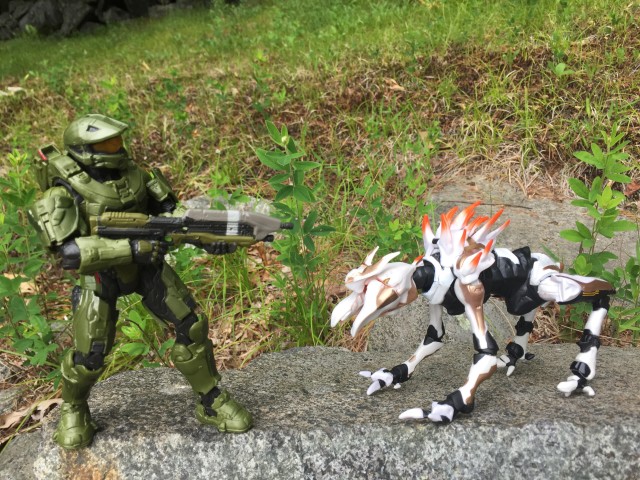 The back knees also have restricted articulation, but this isn't too much of a problem in most scenarios. I've rotated the legs around to achieve desired poses in some of these photos, those this is obviously not an accurate, canonical look for the Crawler.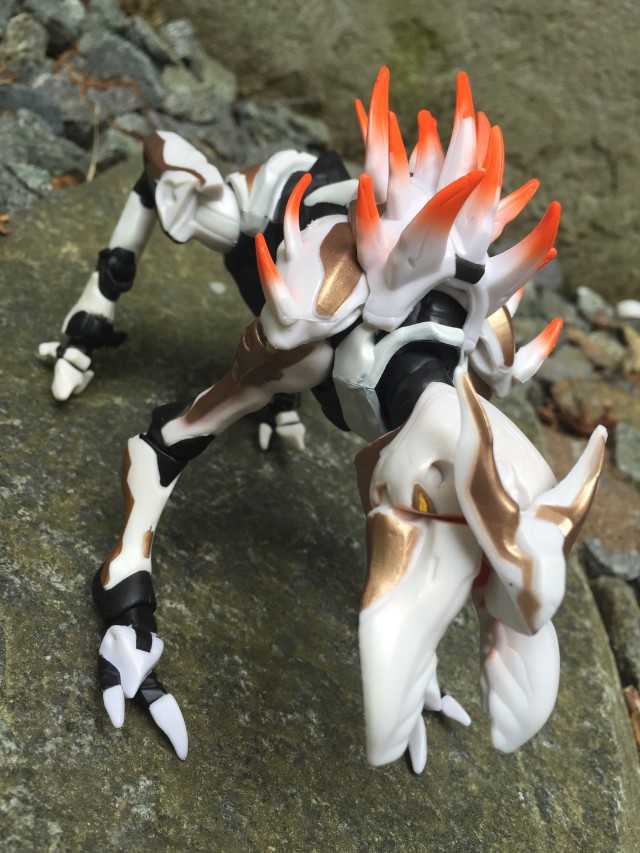 Overall: While I would have enjoyed some sort of energy blast effects piece and a little bit more articulation in the head, the Mattel Alpha Crawler Build-A-Figure is an excellent figure overall–especially as a totally unexpected free bonus figure that we didn't even know would be included until a few weeks ago! The Halo Promethean Alpha Crawler figure is a healthy size, has more paint apps than any other figure in the wave, and is a ton of fun to pose and play with. I hope we get other iterations of the Crawlers as mass-release figures later on, but for now, I think it was worth buying the entire Mattel Halo Series 1 figures wave to build this Alpha Crawler BAF. Excellent.
GRADE: A