2016 has been a rough year to be a Halo collector, with the long-running McFarlane Halo line canned and the Kotobukiya and ThreeA lines unceremoniously in their death throes. Even new master license-holder Mattel has been eerily quiet about Halo since announcing the acquisition of the license at New York Toy Fair 2016–but no longer! The first Mattel Halo Spartan figure has been officially announced for release next month: the SDCC 2016 Exclusive Halo Helioskrill Spartan!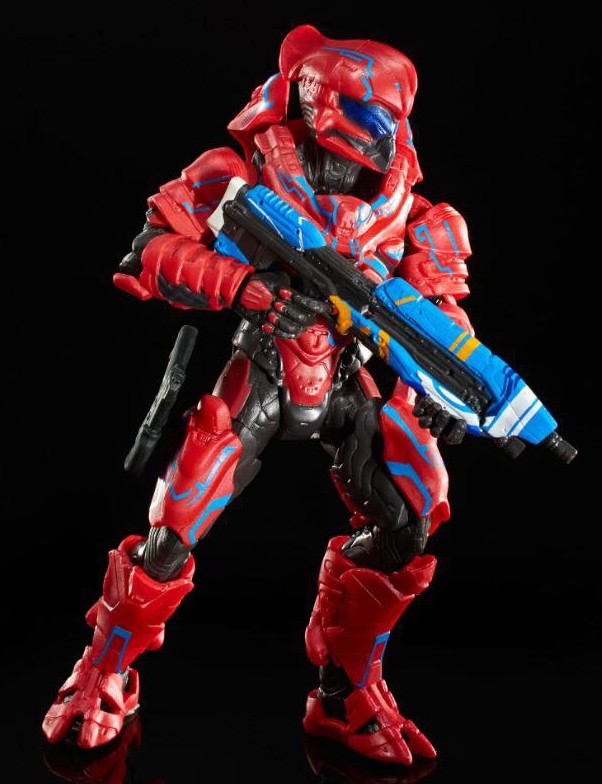 With Mattel having not said a peep about their upcoming Halo 6″ figures line since Toy Fair, I genuinely did not expect a San Diego Comic-Con 2016 Exclusive Halo figure to be announced at all.
But while it looks like there won't be any Halo Mega Bloks or BoomCo exclusives in 2016, the Collector's six-inch figure line is in fact getting serviced–with an exclusive Halo Spartan Helioskill figure with a blue visor and special decorations on the Spartan's armor and Assault Rifle!
Here's the official write-up for the figure…
HALO® SPARTAN HELIOSKRILL
SRP: $25 Available: Onsite
Mattel's new 6" action figure series brings the world of HALO® to life with an iconic line of UNSC Spartans and Covenant forces! This collector's grade Spartan Helioskrill figure is designed with extreme detail and includes iconic accessories, removable armor, and 30 points of articulation for a highly poseable form.
This figure includes a fully interchangeable, mix-and-match armor suit and 2 accessories so you can customize your figure with others in the full line. For San Diego Comic-Con only, figure comes with exclusive blue visor, exclusive armor decoration, and exclusive legendary MA5 "bracer skin."
Build your collection and create epic, larger-than-life HALO® battles from the highly-acclaimed franchise from Microsoft Studios and 343 Industries. Authentic, game-inspired designs and details are sure to thrill both casual fans and avid collectors alike! Specially designed packaging, just for Comic-Con. Colors and decorations may vary.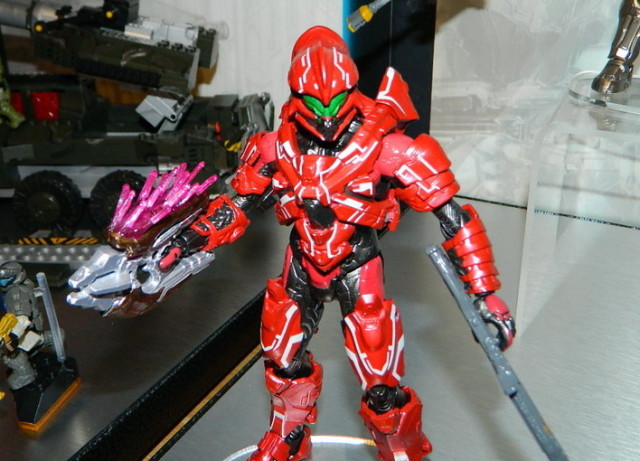 If this figure looks a little bit "familiar" to you, that's because it's just a minor repaint of the 6″ Spartan Helioskrill Mattel showed at the New York Toy Fair Press Event in February. The version shown at Toy Fair feaured a white skin and green visor, whereas the San Diego Comic-Con 2016 version is sporting a blue skin and blue visor, as well as an exclusive skin on his Assault Rifle.
As far as exclusives go, I have to say: this is pretty lame. You would think Mattel would at least give us a color that they weren't planning to already release the Helioskrill Spartan in (black, orange, purple… anything), but instead we're just getting a Series 1 figure with some different-colored details. Alas. I think I speak for us all, though, when I say that I'd rather have a sort of lame Halo exclusive than no exclusive at all.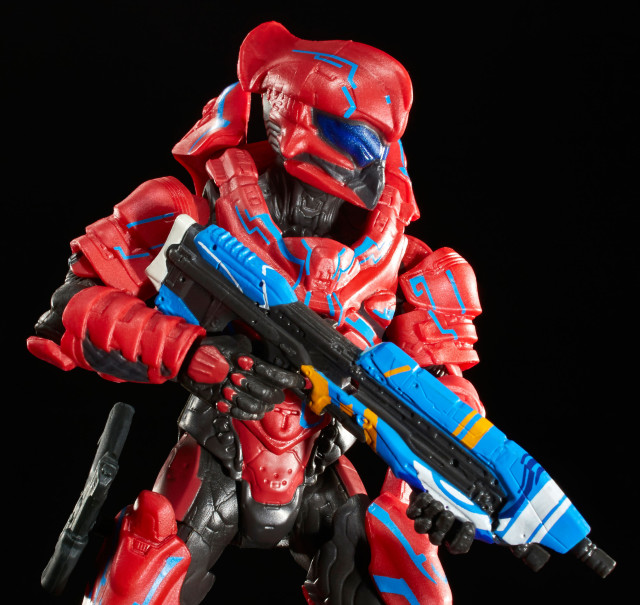 As this is the very first major release in the new Mattel Halo Collector line, it will be very interesting to see how well-received this is at Comic-Con and to so how quickly (if at all) the figure sells out.
What do you think of the first-ever Mattel Halo 6″ figure exclusive release, Halo collectors? Is this special SDCC Halo Spartan Helioskrill figure a must-have for your collection, or are you content with the slightly different one that will be released at retail? Or for that matter, are you excited for any of the Halo Mattel figures coming up this year at all?