This past week has been among the most thrilling for Halo collectors in years, with both Mattel's new and continuing Halo toy lines rolling out loads of news and fresh products. And the hits keep right on coming today, as Mattel has now posted a number of loose and packaged photos of the SDCC 2016 Exclusive Halo Helioskrill Spartan announced last week. And while I don't have one in-hand to review just yet, I have to say that both the Spartan Helioskrill and his box look absolutely killer…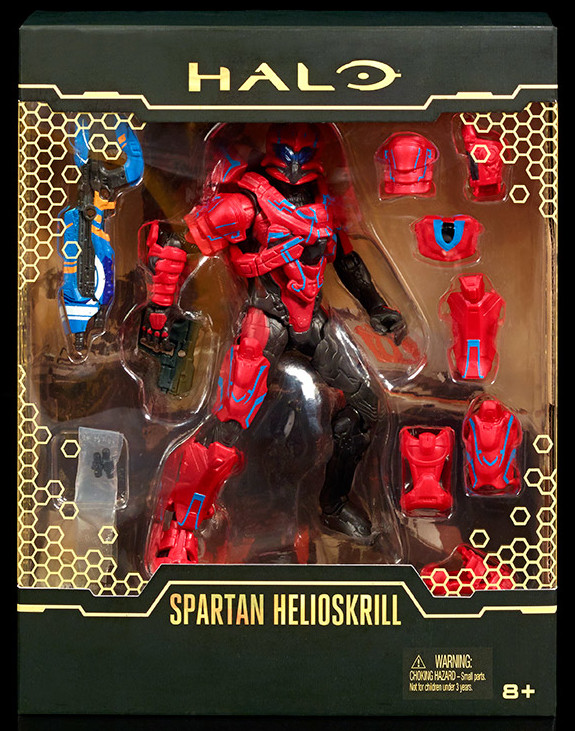 While Mattel whet our appetities with one press photo of their Comic-Con exclusive Spartan Helioskrill six inch figure last week, I was hoping we'd get to see some better shots of the figure before it became time to line up and fight the convention mobs to claim this limited toy.
And it looks like my wish was MattyCollector's command, because despite today being a Sunday, Mattel posted over a half-dozen new high-resolution photos of the red Helioskrill Spartan!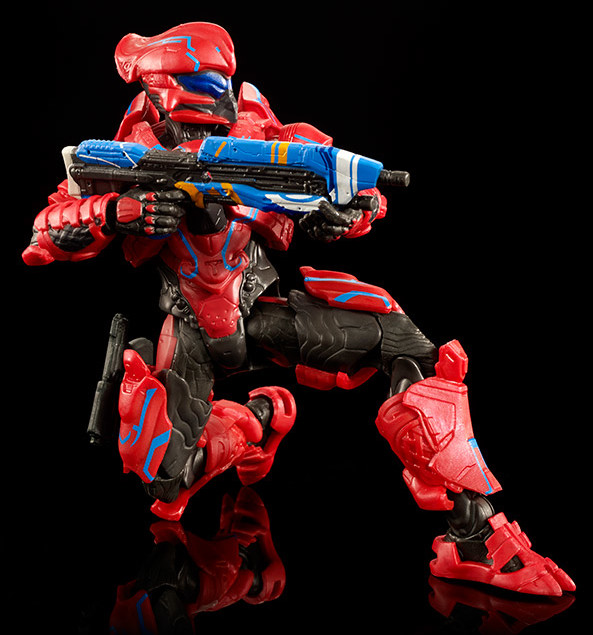 As seen in the preview image, what sets this version of the red Spartan Helioskrill apart from the retail version of the figure is the "Bracer" MA5 Assault Rifle, the blue skin on his armor and the cool blue RECRUIT visor.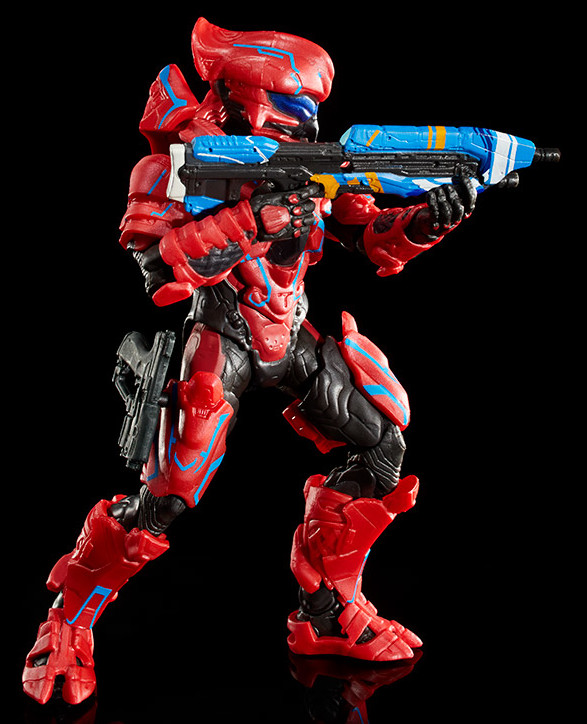 The MA5 Bracer skin looks seriously awesome! It's really sort of a shame that only folks who manage to claim this limited figure are going to get its amazing-looking Assault Rifle.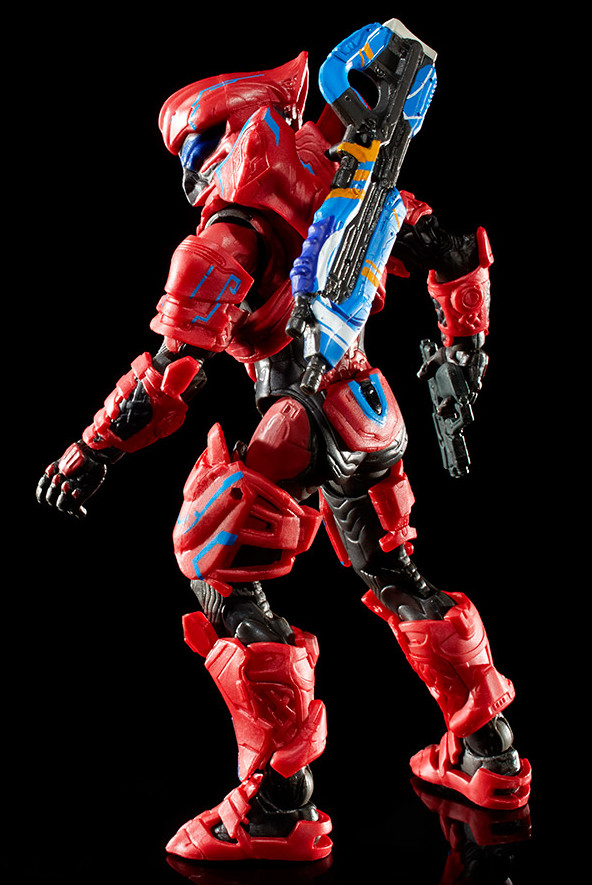 The figure also includes a second weapon: a black pistol gun that can be attached to different points on the the Spartan's armor, including his hip or back.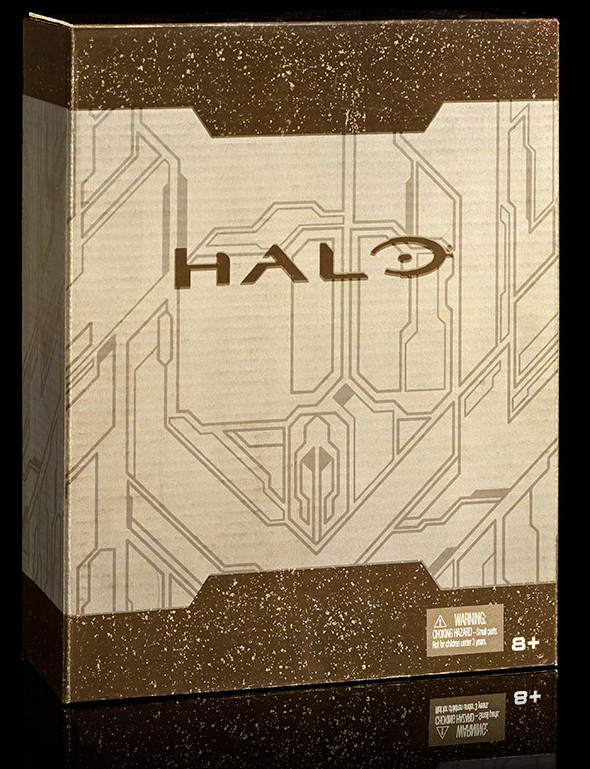 Not only do we get to see loose images of the con exclusive action figure showing off his weapon and articulation, but we also get a sneak peek at the packaging! The box has a fancy "Halo" slipcover that slides over the box, which is a feature the retail Halo 6″ figures almost certainly won't have.
I also really appreciate that the box shows the armor removed on the Spartan's left leg, so buyers get a clear idea of how the removable armor pieces work.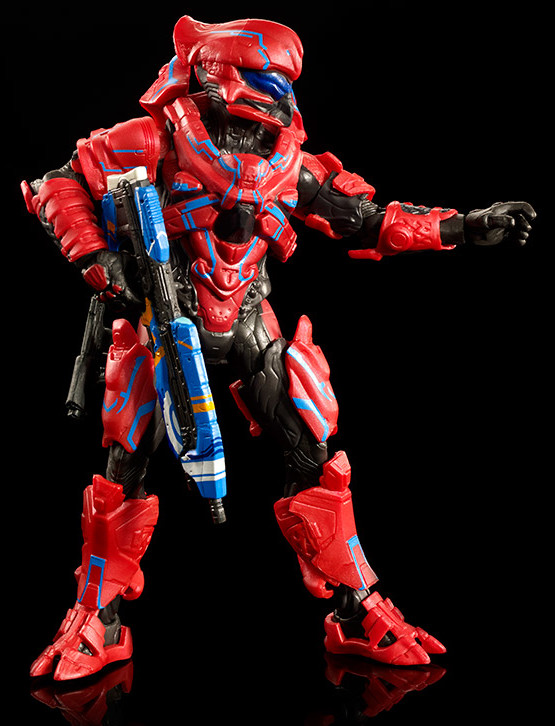 As with all Matty Collector convention exclusive figures, the price on the SDCC Halo Helioskrill Spartan is higher than a standard figure. Whereas the Mattel 6″ Halo figures are expected to retail for $19.99, the San Diego Comic-Con exclusive carries a price-point of $24.99.
Given the limited nature and exclusivity of this Spartan action figure, as well as the extra bells and whistles of the packaging (such as the box's slipcover), I think the extra $5 surcharge is pretty fair and I won't really begrudge paying it at all.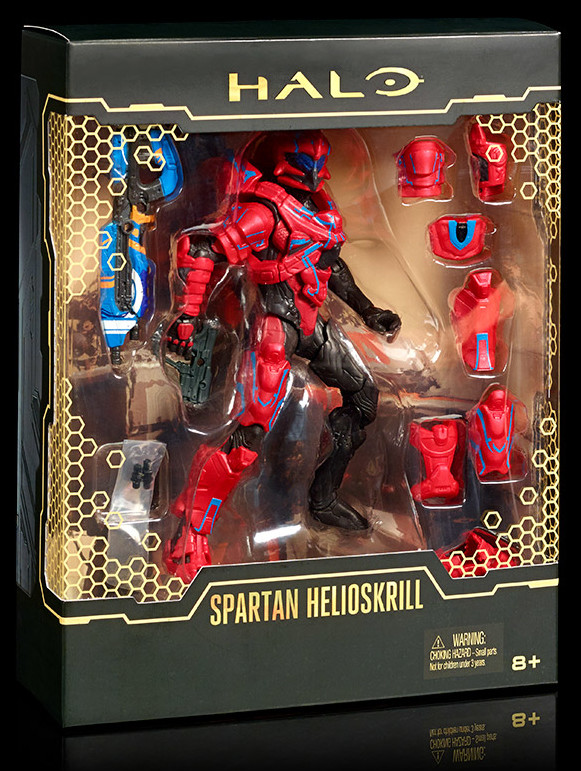 Mattel should post the leftover stock of the 2016 SDCC Halo exclusive figure after the show, and you can follow the Halo Toy News Twitter or Facebook Pages to have updates sent to your favorite form of social media once the limited amount of remaining figures are put up for sale following Comic-Con. You'll have to be fast to snag one of these exclusive Spartans online, as I expect that they'll sell out within a few hours of being posted.
Now that you've seen hi-res and packaged photos, how do you like this year's San Diego Comic Con Halo toy exclusive figure, Halo collectors? Are you willing to put in the time and effort to secure this exclusive blue-visored Spartan, or has Mattel not impressed you enough to earn your dollars?