Let's be honest here: the fact that this year's Mega Bloks Halo Signature Series set was going to be the Covenant Spirit wasn't exactly a trade secret. In fact, we've been seeing prototypes and speculating about the Mega Bloks Spirit for several years now, and MEGA Brands even confirmed the Signature Series Covenant Spirit in 2015. But today, things just got real: the Halo Mega Bloks Covenant Spirit set was officially announced today!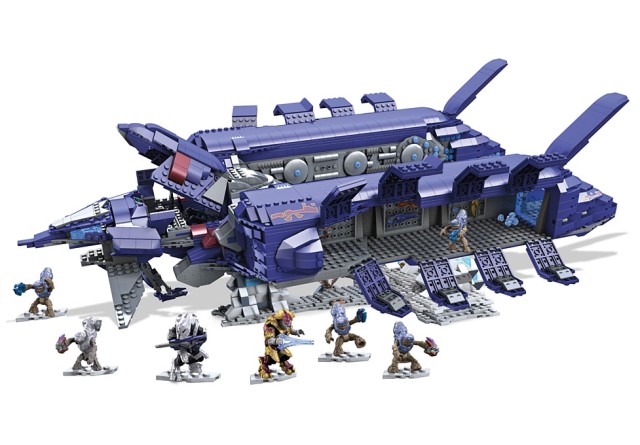 While the U.S. Toys R Us website has been pretty slow-to-draw this year, with new toys oftentimes appearing on the site weeks after the items have begun hitting retail stores, the Canadian Toys R Us website has been a different story. And today, the Toys R Us Canada site dropped a nuke on us in the form of official confirmation of five new Halo Mega Bloks Summer 2016 sets!
By far the most important and anticipated of the newly announced sets, however, is this year's Mega Bloks Halo Signature Series set: the Covenant Spirit Dropship!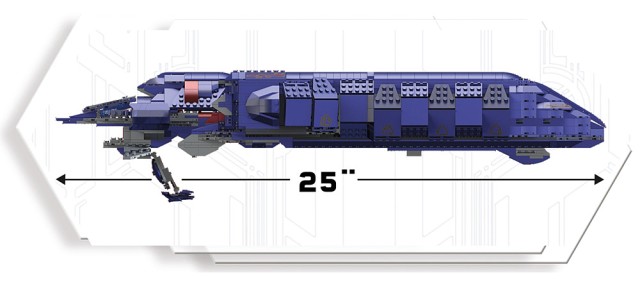 There are only a handful of images of the set available–and none of those images show the box for the Spirit–so we still don't know the piece count for the set.
What we can see, however, is the figures selected as pack-ins with the Spirit and the Canadian MSRP: $279.99 Canadian. This is the equivalent of about $216 USD, so I think we could see the set priced around $199.99-$229.99 in the United States. That's not so bad, is it?
In addition, the images confirm the size of this Halo Spirit Dropship: 25″ long! That's over two feet long, making the Spirit one of the longest vehicles that MEGA Brands has ever created for this brand! Also, one of the images shows a piece of snowy terrain that can act as a display base for the Spirit! Pretty awesome, right…?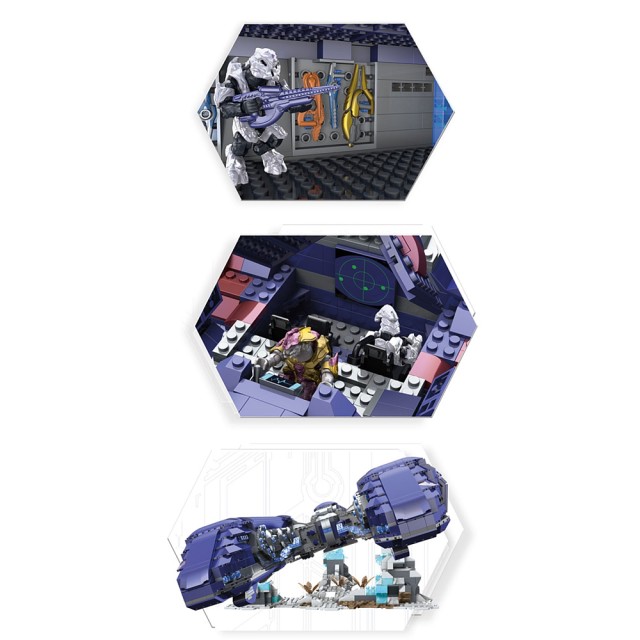 The set looks to include seven total Halo figures: two Elites and five Grunts. I don't want to strain my eyes trying to determine exactly which varieties of Sangeili and Unggoy come with this set, so I'll leave that up to you, dear readers: Exactly what Covenant figures are we looking at with this release?
Here's the official description for the set, as posted by Toys R Us today for the very first time:
"A behemoth of the skies, the Covenant Spirit Dropship looms over UNSC territory, ready to deploy its Covenant forces! Featuring authentic detailing and dynamic features, this Signature Series large buildable Covenant troop carrier aircraft comes with a collection of highly detailed, super-poseable micro action figures, both Covenant and UNSC, each with removable armor and interchangeable weapons and accessories for ultimate display!"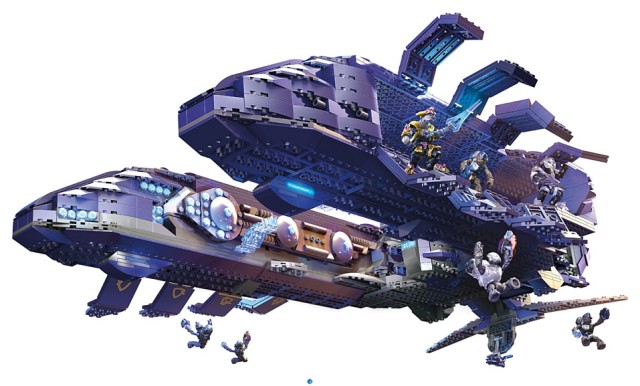 The Covenant Spirit Halo Mega Bloks Signature Series set is a Toys R Us exclusive release and is scheduled to be released in Canada on September 9th, 2016. The UPC number is 887961318470 for those who want to track it at their local stores. I'll post an update to the Halo Toy News Twitter and Facebook Pages once concrete details regarding the domestic release of the Spirit Dropship are available.
Now that it's finally officially on its way and we've seen the first images, what do you think of the long-awaited Halo Mega Bloks Covenant Spirit Dropship, Halo collectors? Are you excited about finally adding this legendary ship to your collection, or are you underwhelmed by MEGA Brands' biggest set of 2016?