Believe me, the complaints have not fallen on deaf ears. I felt like Mattel dropped by the ball by showing off virtually no new Halo Mega Bloks sets at the 2016 Toy Fair, and I went and dropped the ball by basically not talking about the few things MEGA Brands did show at the event. But Mattel is making up for it today by releasing a bunch of unannounced Summer 2016 sets, and I'm making up for it by previewing them all as quickly as possible. And the last of the sets is also the biggest: the Halo Mega Bloks Covenant Wraith Ambush!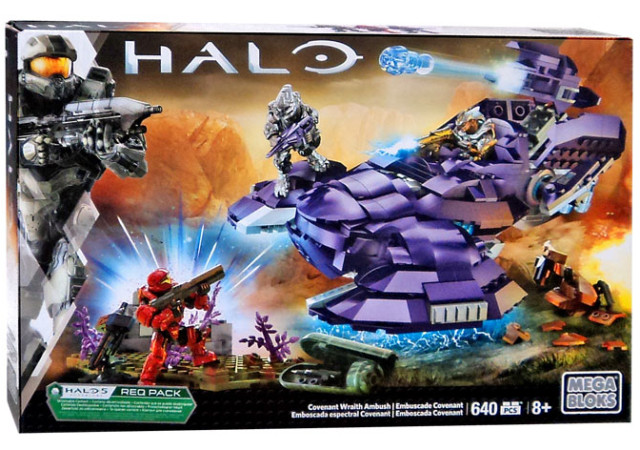 I don't think that anyone can deny that the past year has been exceptionally light on Mega Bloks Halo Covenant vehicles. The sad truth is that, as much as we adult fans and collectors love the Covvies, most kids aren't quite as infatuated with them as they are with the Master Chief and his garage full of vehicles. Consequently, Covenant vehicle sets usually end up selling much poorer and oftentimes end up being cleared out at rock-bottom prices.
Even so, we've got at least two new Covenant Mega Bloks sets to look forward to this year: the gigantic and long-awaited Mega Bloks Covenant Spirit Signature Series set, and this Halo 5 Wraith in the Covenant Wraith Ambush set.
This new version of the Wraith looks a lot sleeker than any build of the tank that we've seen before, and features a launching "plasma" missile action feature. We've gotten plenty of Wraiths over the years, but this is likely the best one that's been released to-date.
We're getting two Covenant Elite figures as part of this set, and both looks great: a silver Covenant Elite Commander figure and a silver Covenant Elite Minor figure. They each get a weapon: an Energy Sword and a Storm Rifle, respectively.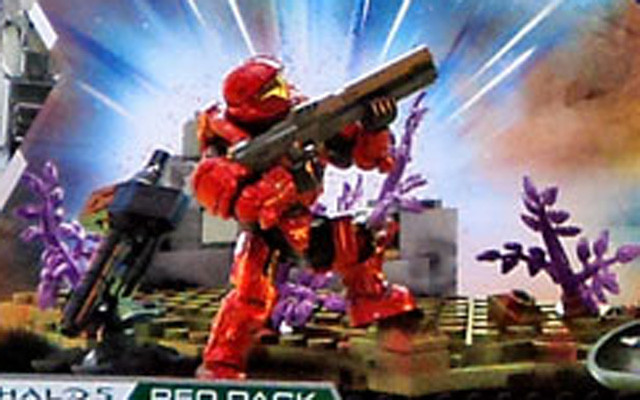 We saw the red Helljumper Spartan figure shown at New York Toy Fair 2016, but at the time we didn't know what set he would be coming with. Well, it turns out it's not a set shown at Toy Fair at all, as the red Spartan Helljumper is (hopelessly?) outmatched against this Halo 5 Covenant Wraith tank. Of course, thanks to that trusty missile pod, I think this guy may have a fighting chance…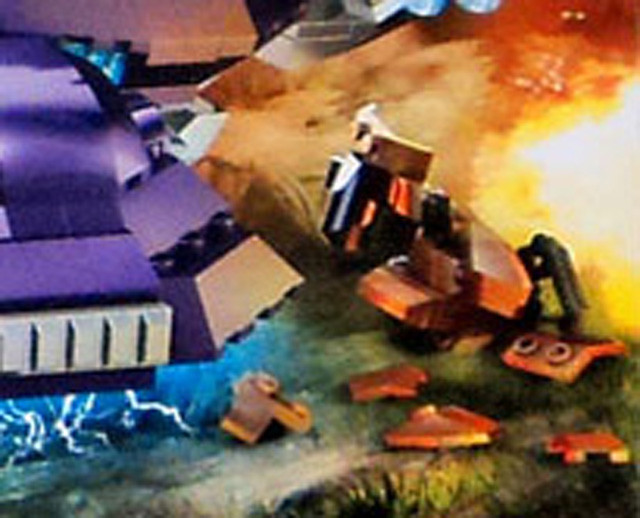 I have to say, though, that my favorite part of this set is neither the Covenant Wraith not the figures included with it–it's the first-ever "destroyed UNSC Mongoose" piece of environment that the set comes with!
If you're wondering why this poor Helljumper Spartan is facing off against this deadly Covenant Wraith tank all by his lonesome, it's seemingly because he was ambushed (hence the name of this set) by this Wraith and had his Mongoose blown to smithereens. I like it when MEGA Brands incorporates a little storyline into their sets, as seems to be the case with this Halo Mega Bloks Summer 2016 Covenant Wraith Ambush set!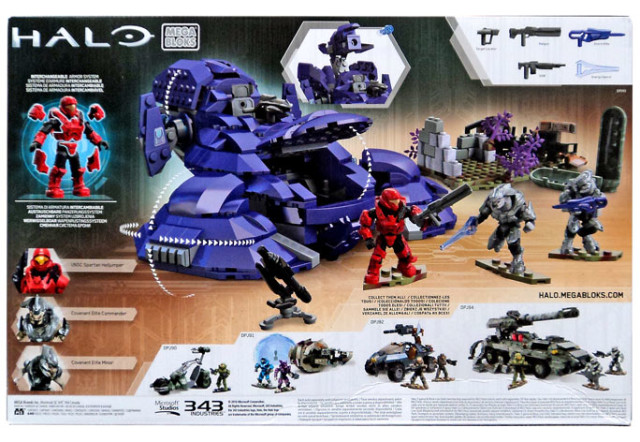 The Halo Mega Bloks Covenant Wraith Ambush set includes 640 pieces and is expected to retail for $59.99-$64.99 when it hits retail store chains this spring. Traditionally Covenant sets sell rather poorly and end up getting discounted in stores, so this is the only one of the five newly-released sets I decided not to pay the inflated scalper prices for and pick up from ToyWiz.com. Your mileage may vary, but the $71.99 Toy Wiz price on this set was higher than I was willing to pay right now.
What are your thoughts on the most expensive of the newly-revealed Mega Bloks sets, Halo collectors? Are you willing to fork out $60+ for the newest iteration of the Covenant Wraith, or are you going to wait for if and when this set hits clearance racks to pick it up?