A couple weeks ago, a surprise listing appeared on eBay out of literally nowhere for an unannounced Dark Horse Halo Grey Pelican ship replica sporting a "GameStop Exclusive" sticker. It's been a tedious wait ever since to see when (or if) the ship would actually be available direct from Gamestop, but the wait is over: the GameStop Exclusive Halo Pelican is now available for order online!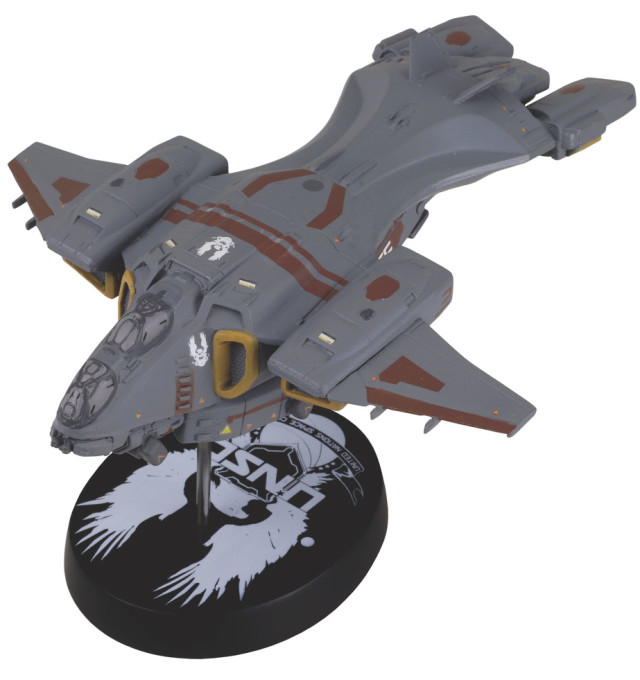 Man, Dark Horse is sure looking to make life difficult for Halo collectors looking to have a complete set of their ship replicas, aren't they?
Thus far we've had the UNSC Infinity replica get released (just this week, in fact) and now five versions of the UNSC Pelican are out there:
UNSC Pelican Dropship (Green) — Mass Release
UNSC Pelican (Silver) — NYCC Exclusive LE 400
UNSC Pelican (Bronze) — SDCC Exclusive LE 500
UNSC Pelican (Grey with Stripes) — GameStop Exclusive LE 5000
UNSC Pelican (Gunmetal) — PAX Exclusive LE 300
That's… a lot of Pelicans! Oy! Is there really that much demand for different iterations of this vehicle…? I'm not sure, but I like each version enough that I want them all (though the NYCC Silver version looks coolest, in my opinion)!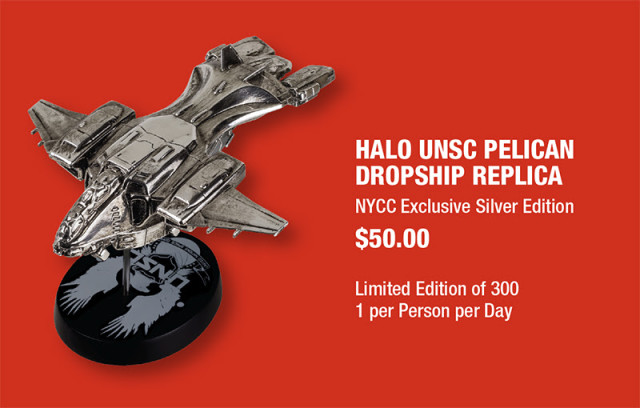 And for those who missed it at New York Comic Con 2015 earlier this month, BBTS has the Silver Pelican available for order right now. Considering that only 400 were made and most were sold at New York Comic-Con itself, I wouldn't expect it to last long online, though. Meanwhile, for the PAX Gunmetal and SDCC Bronze exclusives, well… looks like eBay is the best (only) option left now.
Given how difficult the other three variants are to acquire at this point, I'm quite pleased to see that the Grey Pelican has an increased edition size and is available for MSRP now on the GameStop website. I'll be curious to see how quickly this sells out, as GameStop's other Halo exclusives (from McFarlane Toys) have traditionally sold extremely well.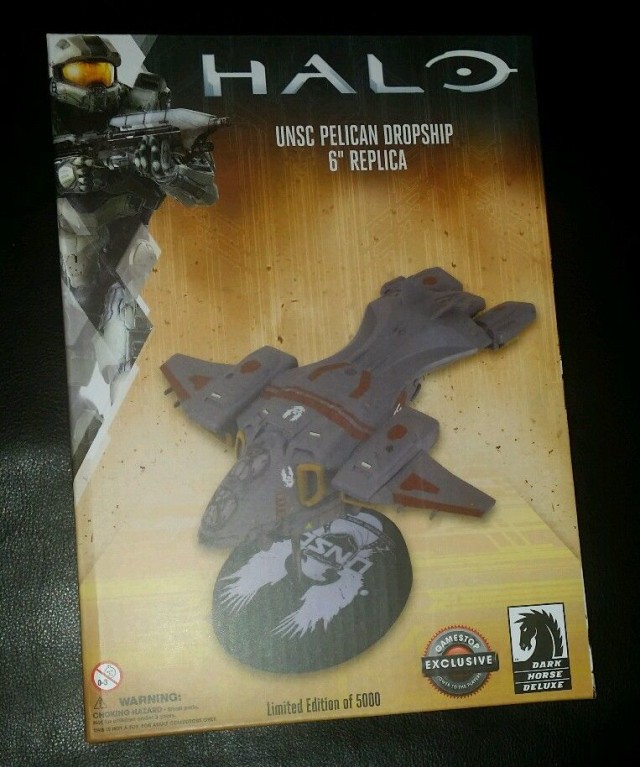 As near as I can tell using the inventory finder online, zero physical stores have this grey striped variant in-stock in the United States right now, but presumably it will be flying into actual GameStop locations (eventually). Regardless, I'm not waiting–mine's already ordered online.
Which of these Dark Horse Halo ship replicas have you picked up so far, collectors? Are you planning on building a mini-fleet of the various Pelican Dropships, or are you okay with just one (or none) of this great-looking model?