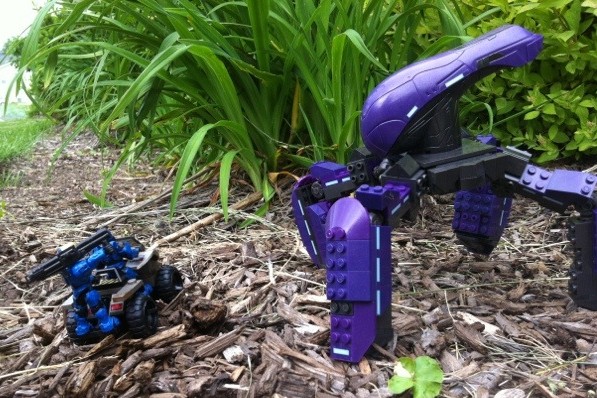 It's been a slow news week for Halo toys collectors (though with plenty of news on Halo 4 video game store exclusives!), so I'm stepping back today to talk about a toy that debuted before Christmas: the Halo Mega Bloks Versus Covenant Locust Attack 96965 set. This set is notable for being part of Target's exclusive Red vs. Blue theme, but also giving us a redesigned version of one of my absolute favorite Halo vehicles, the Covenant Locust! It's a store exclusive you may have to hunt around a bit for (especially if you don't have a local Target), but the Halo Mega Bloks Covenant Locust Attack set is definitely worth your time and dollars…
The Right:
This is the second release for the Covenant Locust, as it was previously released in the Halo Mega Bloks Gausshog vs. Covenant Locust 96823 set. That set was released for a disappointingly short amount of time compared to some other Halo Mega Bloks sets, so I'm grateful to see the Covenant Locust return for another run.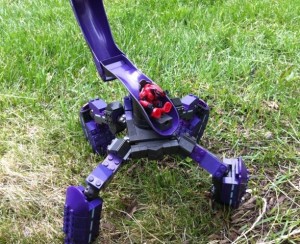 I don't have the original Halo Mega Bloks Covenant Locust from set 96823 on-hand at the moment for a full comparison, but there's a couple of very obvious improvements to the new and redesigned Halo Mega Bloks 96965 Locust. First and foremost, this time out the canopy of the Covenant Locust is actually accurate to the Locust's appearance in Halo Wars, unlike the old 96823 Locust, which simply reused the Banshee's canopy. Having an authentic-looking canopy on the Mega Bloks Locust makes a huge difference in its appearance and makes it my de facto favorite Locust toy. The canopy can be raised in order to place a figure inside, although you can't see through it so the Locust looks just as good unmanned.
The legs on the new Covenant Locust are also a new build, which I find to be an improvement over the old version (although not to as large of an extent as the canopy). Both the upper and lower legs can pivot and swivel all-around, so you can pose the Locust walking, standing, or even downed by enemy forces. As far as Mega Bloks Locust's legs go, anything I can think up that I want them to do, they can.
At 284 pieces, the Covenant Locust Attack set ends up costing about 10 cents per piece, which is my sweet-spot for construction sets. I think that at the $27-$32 MSRP (it seems to vary at different Targets for some reason), this set is a pretty strong value for the cost.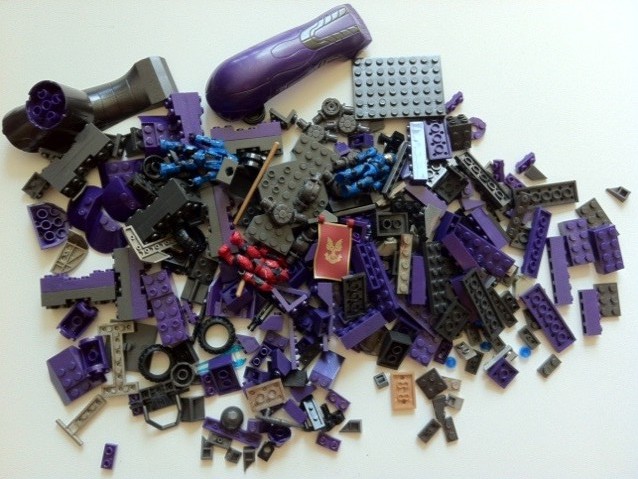 The Halo Mega Bloks Versus: Covenant Locust Attack set's build is of moderate difficult–it's not super-easy, but it's certainly not supremely challenging either. It took me about an hour and a half to fully build the entire set. Once built, the set feels a lot more substantial than I expected it to, as the MSRP is right around the price of the Covenant Revenant Attack set, which feels much smaller by comparison.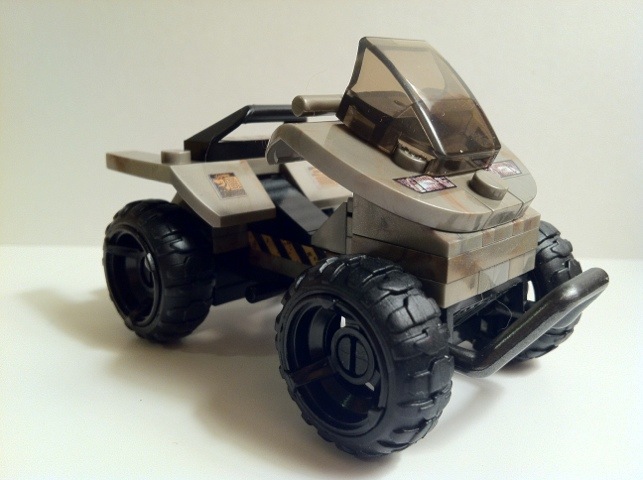 In addition to the Locust, you also get the smallest UNSC vehicle as part of Halo Mega Bloks 96965: the UNSC Mongoose. We've had several Mongooses before in the line, and this one is really no different. However, it's capable of carrying two figures and I think it's a great choice for keeping the cost of the set low while still allowing the included Spartan figures to have a legitimate method of standing up to the Covenant Locust for more than a few seconds in battle. I love how the camouflage bricks give the small ATV a muddy, militaristic look and it's really fun to roll the Mongoose around while carrying a Rocket Launcher-wielding Spartan on the back of it.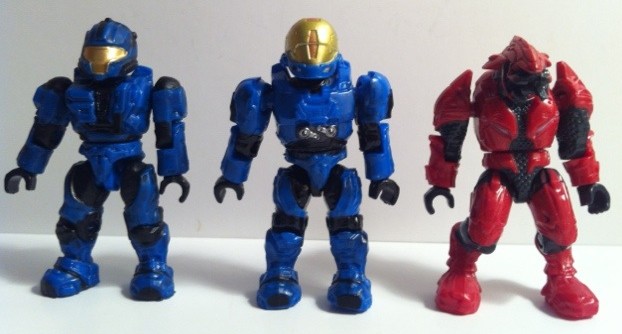 This set includes three Halo figures: a blue CQB Spartan, a blue EVA Spartan, and a red Elite Combat. I'm not really psyched about the red Elite Combat, as I already had several very similar figures and pretty much that exact figure was included with the Target Red vs. Blue blind-bagged two-packs around Christmas. However, the blue Spartans feel like a much bigger treat. Despite blue and red being arguably the two most popular Spartan colors, it feels like we've always gotten red Mega Bloks Spartans much more frequently than figures of blue ones. The blue EVA and CQB Spartans look terrific, and I'm really pleased about their inclusion in this set.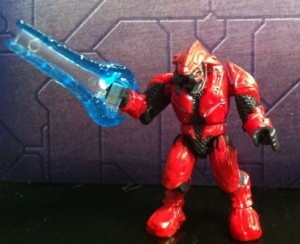 Three weapons are included in the Covenant Locust Attack set–one for each figure. The Spartans get a Brute Shot and a Rocket Launcher, which are two of the most powerful Halo guns and very suitable for trying to take down a Locust with. The Elite Combat gets an Energy Sword, which seems like an odd choice to try to kill two Spartans riding a Mongoose with, but I can always use more Energy Swords. In addition, the set includes a free-standing UNSC flag. We get flags very rarely in the Mega Bloks line, so it's always great to see one included, especially in a set that's already so fully loaded.
Oftentimes I hate sticker sheets with construction sets, be they Mega Bloks or LEGO, but in this case I think that the decals really do add a lot of detail to the set and are absolutely worthwhile. The Mongoose looked very drab and plain before I applied the generous amount of stickers it gets for such a small vehicle, and the Locust's style and aesthethic are much enhanced by the "energy" stickers that fit on its canopy and legs. Bad use of stickers can definitely hurt a toy, but the decals on the Covenant Locust Attack set are used perfectly to complement the vehicle and make them better.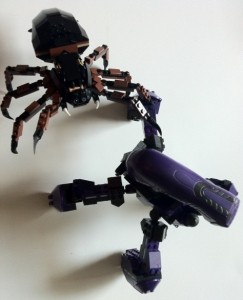 There's only one major issue I have with this set, and it has to do with the weird design choice for the Covenant Locust's head. Instead of being a joint that's tight or clicks into place when you move it around, the Locust's head is instead free-rotating and friction-free. As a result, the Locust's head swings uncontrollably all over the place whenever you move the Locust at all. It's actually really annoying, and I honestly have no idea why MEGA Brands would have engineered the toy to work in that way. It just doesn't make a lot of sense to me, as I can't imagine anyone would consider the head flopping all over the place endlessly to be "play value".
Also, I think that this set is a little bizarre thematically. The centerpiece of the set is the Covenant Locust, but the Locust appears only in the Halo Wars video game, which does not include Mongoose vehicles, CQB Spartans, or EVA Spartans in it. It's not a big deal and I'm not penalizing the score for the set at all, but it seems really weird to me the way that different elements of the Halo universe from different eras are combined here.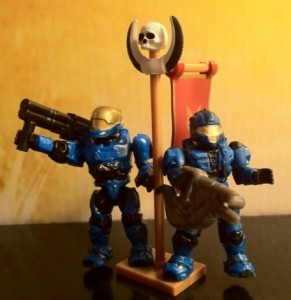 Overall: The Covenant Locust Attack set was a real pain to find late in 2011, but has become somewhat more plentiful at retail in the last few months. That's a good thing, because Halo Mega Bloks 96965 is an excellent set with a lot to offer. The Halo Mega Bloks Covenant Locust itself is much-improved over the one released in set 96823, with an accurate canopy and improved legs this time. The Mongoose is a nice small vehicle to throw in with the set (if not a strange choice canonically), and an extra flag is always very welcome. I'm not terribly excited about the red Elite Combat figure included in the set (as we get so many Elite Combats from MEGA Brands already), but the blue EVA and CQB Spartans look particularly slick and pack serious heat in the Brute Shot and Rocket Launcher. For a moderate price, you are a getting a ton of value with the Halo Mega Bloks Versus: Covenant Locust Attack set. I think it's definitely one of my favorite sets released in the Halo Mega Bloks line in the past year, and it earns a high recommendation.

GRADE:

A-
Want a Halo Mega Bloks Versus: Covenant Locust Attack 96965 set for your very own but can't find it in your local stores? You can check out all the Amazon listings to get the Locust Attack for right about retail price right here or try your luck by checking out the ebay listings for the Covenant Locust Attack directly by clicking here
!