Last summer, Dark Horse announced that they would be going beyond comic books with their Halo offerings for the very first time by creating an all-new line of Halo Replica ships and vehicles! We've had to wait over half a year for more information on this line, but at the New York Toy Fair 2015 last week, Dark Horse Deluxe brought along the first three Dark Horse Halo ship replicas to show off at the event: the UNSC Infinity, a UNSC Pelican and the Covenant Truth and Reconciliation!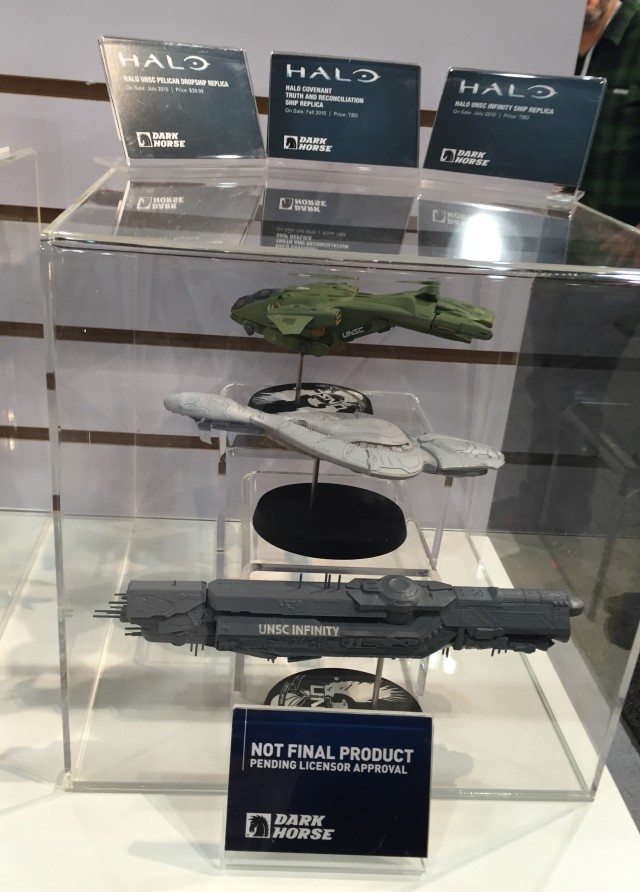 Having previously found success with their line of replica ships based off of the Mass Effect video games, Dark Horse Deluxe is moving on to produce small-scale ship replicas from an even more popular video game property: Halo!
The line will begin this summer with two ships being released: the Halo UNSC Pelican Dropship Replica (I believe the Halo 4 version) and the Dark Horse UNSC Infinity Ship Replica. This duo of ships will be followed by the first Covenant spacecraft in fall 2015: the Halo Covenant Truth and Reconciliation Ship Replica (from the original Halo: Combat Evolved video game).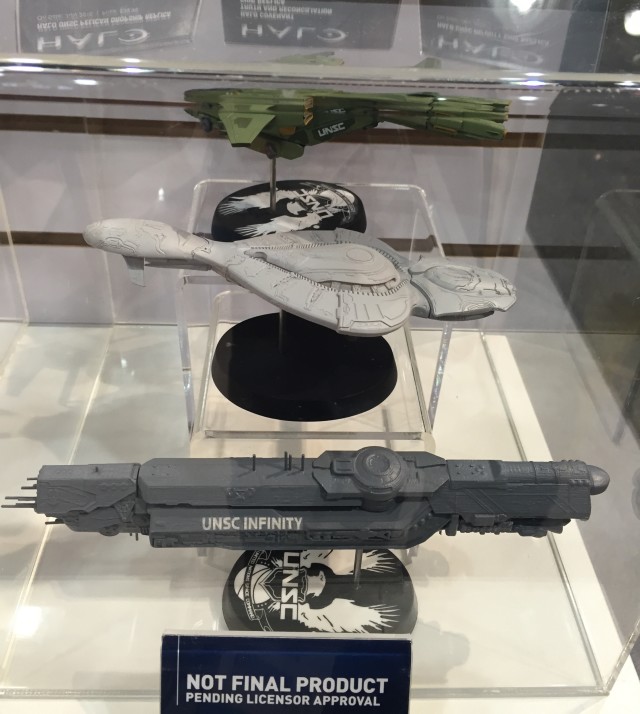 Each ship looks to measure in the vicinity of 6″ long (with the UNSC Infinity replica obviously being longer than the other two), with the UNSC Ships getting a UNSC Logo base (and presumably the Truth and Reconciliation getting a Covenant base that hasn't finished being designed yet).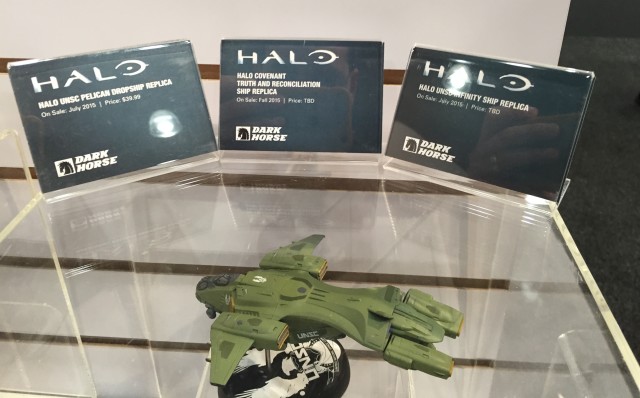 I applaud Dark Horse Deluxe for making some genuinely interesting choices to kick off this line with, as opposed to things like the UNSC Warthog and the Covenant Banshee that we've seen a million times over at this point. I believe this is the first-ever toy of the Covenant Truth and Reconciliation, unless anyone can recall another company producing one in some scale…?
There is not a set price-point for the Halo Dark Horse ship replicas as an entire line. Rather, as with previous lines of Dark Horse ship replicas, each vehicle will be priced individually depending upon its size and the amount of detailing/materials necessary for the replica. So, while the UNSC Pelican replica will cost $39.99 when it goes on sale, that price has no bearing on the prices of the UNSC Infinity or any other ship that Dark Horse Deluxe produces.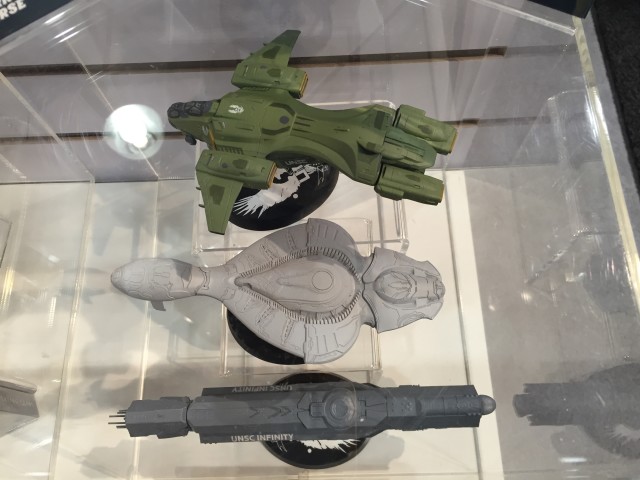 The Dark Horse UNSC Pelican Ship Replica should be up for order later this winter, with an expected release date in July 2015. I'll post an update here and to the Halo Toy News Facebook Page once the Pelican replica goes up for order, so stay tuned if this is a line that interests you.
What are your thoughts on the Halo Ship Replicas line that Dark Horse has now started revealing, Halo collectors? Is this a line that you can sink your teeth into, or is $30-$40 each for a line of 6″ plastic Halo vehicles more than you're willing to shell out?