Thanks to the shocking early release of the 2014 Halo Mega Bloks Series 8 blind bags mystery packs in Australia, we can now begin compiling an official list of Halo Mega Bloks Series 8 codes! I don't expect these blind bags to hit in full force in most countries until January 2014, but at least we can get a Mega Bloks Halo Series 8 codes list going now, so we'll be ready when these do arrive in stores!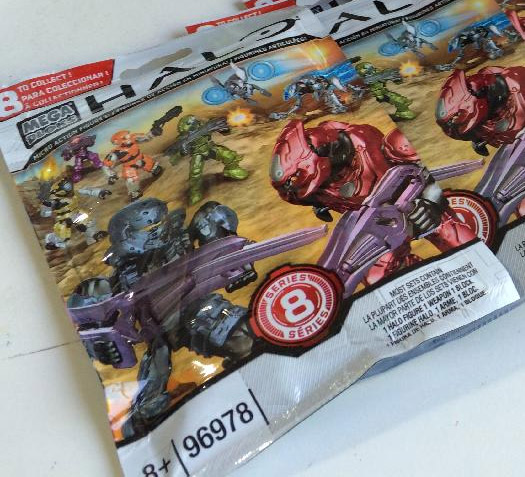 As of writing, only one country in the world–Australia–has reported receiving the Halo Mega Bloks 96978 Series 8 Mystery Packs, so these code numbers below may or may not be compatible with the releases when the Mega Bloks Halo Series 8 figures reach the United States and other countries. This post will be updated as new sequences of code numbers show up in stores, so don't despair if the numbers you see when the Mega Bloks Halo Series 8 blind bags hit in your area don't match these.
The known codes for Halo Mega Bloks Series 8 Blind Bag Mystery Packs are:
Orange Spartan HAZOP  (Common) — A07103MM
Green Spartan Operator  (Common) — A08103MM
Promethean Crawler (Common) — A09103MM
Red Covenant Storm Elite  (Common) — A10103MM
Purple UNSC Spartan Mark VI (Common)– A16103MM
Promethean Watcher (Rare) — A14103MM
Gold Spartan Air Assault (Rare) — A15103MM
Stealth Grey Spartan Soldier (Ultra Rare) — A11103MM
Looking at the figures that make up this assortment, I can already tell that the Stealth Grey Spartan Soldier is going to be the most popular figure in the set, as well as being the Ultra Rare figure. Isn't that always the way? Truly, though, this is a great assortment–I can't see any figure in this set being genuinely unpopular and selling poorly. Thanks to the Repacked Podcast for being the first to report on the newest series of blind bags being released!
As always, if you find Halo blind bags with different code numbers on the backs of the bags, please leave a reply and let us know what figures go with which codes so that we can continue to have the most comprehensive list of Halo Mega Bloks codes anywhere on the Internet!