Ever since a teaser photo leaked to the Internet at the end of May, I've been flooded (so to speak) with requests from Halo collectors wanting to know more about the Halo Mega Bloks Last Man Standing Zombie Pack. I've been holding off on posting news about the set until we had official confirmation of it–and that time is now! A Chinese online retailer has sent out a photo of the Mega Bloks Halo Last Man Standing Zombie Pack 97199 to reader Vanocean, and now (almost) all of our questions about the set have definitive answers…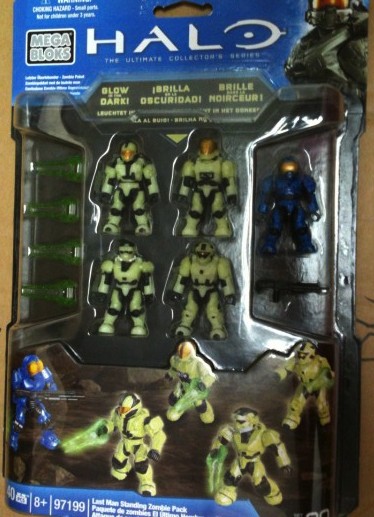 The long-rumored (well, for a couple weeks) Halo Mega Bloks Last Man Standing Pack 97199 will consist of five figures: a blue Halo Mega Bloks Security Spartan figure with a DMR and four glow-in-the-dark Zombie Spartans. Yes, you read that right, glow-in-the-dark Zombie Spartans. This includes a Zombie CQB Spartan, a Zombie EOD Spartan, a Zombie EVA Spartan, and a Zombie Recon Spartan. Each of the four Halo Mega Bloks Zombie Spartans figures will include a transparent green energy sword, as seen in the teaser photo that started circulating at the end of last month.
Those of you who don't play Halo multiplayer (wait, is anyone like that reading this site?) are probably wondering just what the heck this Halo Mega Bloks Last Man Standing Zombie Pack is all about. Well, in the Halo 3 video game, Bungie introduced a multiplayer mode called "Infection", which also appears in the Halo Reach video game. This particular set is based on "Halo Reach", where the infected Spartans appear in green (hence the glow-in-the-dark paint deco).
In this mode, some players start as (Alpha) Zombies and some players do not. The zombies go around killing every non-zombie player, who then become "infected" and turn into zombies themselves. The last uninfected player is declared the winner–the "last man standing", which is the blue Spartan Securty figure in this set. If I wasn't awful at Halo multiplayer (strange but true), that blue Security Spartan would be me!
McFarlane Toys did a top-selling Halo Reach three-pack of action figures with the Infection theme back in 2011, so it's not altogether shocking to see the same theme repeated here in Mega Bloks Halo form.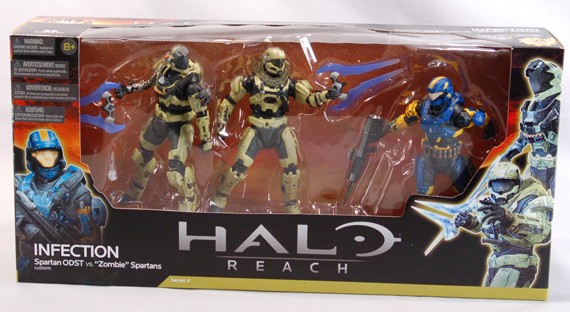 I'm thrilled to see another Mega Bloks Security Spartan easily available in this set, as I'm not at all thrilled about the Steel Security Spartan in Halo Mega Bloks Series 7 being the Ultra Rare figure in that set. The Zombie Spartans will be the first Glow-in-the-Dark Halo Mega Bloks figures released, although MEGA Brands has released several Glow-in-the-Dark figures previously in their World of Warcraft Mega Bloks and Skylanders Mega Bloks lines.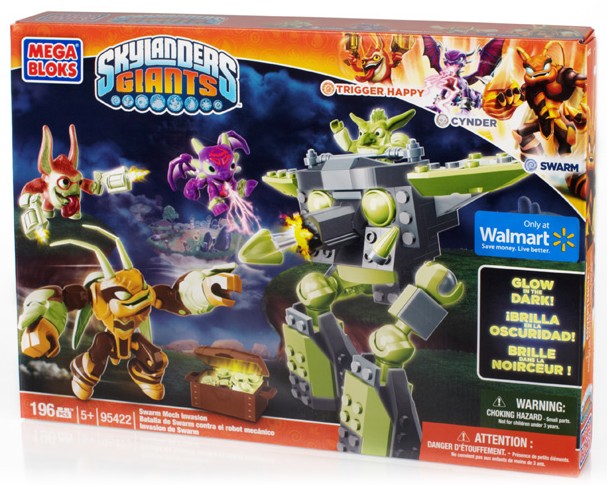 In the United States, the Halo Mega Bloks 97199 Last Man Standing Zombie Pack will be a retailer store exclusive. There's no confirmation yet on exactly where this set is going to be available, but the pack clearly looks like a Target exclusive to me, as Toys R Us Halo Mega Bloks exclusives are always boxed.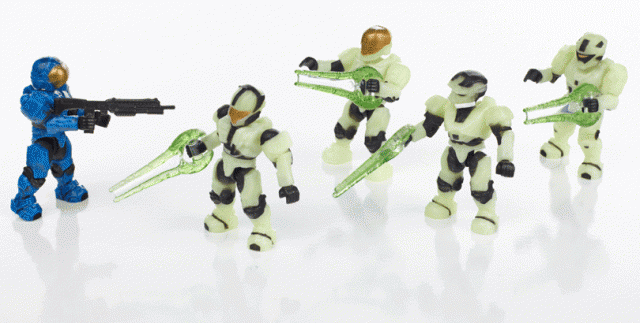 I'll post more details and specifics about exactly when and where this Halo Mega Bloks Zombie Pack will be available just as soon as that information is released. You can 'Like' Halo Toy News on Facebook to have news and updates sent directly to your Facebook Newsfeed. Thanks to Vanocean for giving me permission to run his photos here on Halo Toy News!