Given that it's one of the absolute most popular branches of the Halo Mega Bloks line, I don't think that there was anybody who wasn't expected to see the 2013 Halo Mega Bloks Series 7 Figures Mystery Packs assortment debut at the New York Toy Fair 2013 this week. And MEGA Bloks didn't disappoint us at all…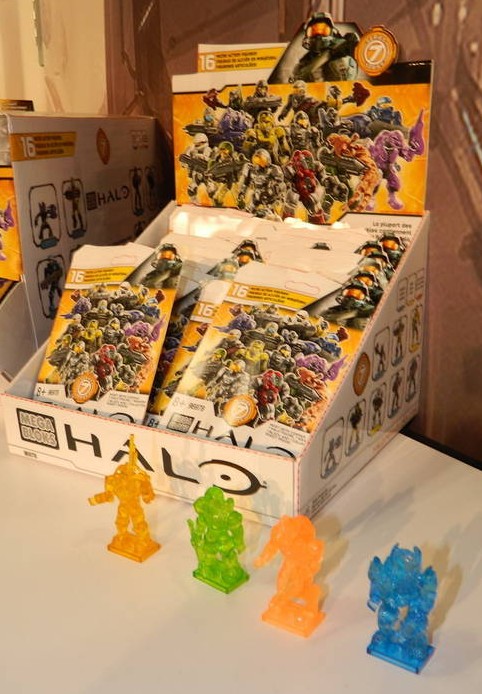 HALO MEGA BLOKS SECURITY SPARTAN!!!
*clears throat* Sorry, I just had to get that out of my system. I have a thing for Security Spartans, and when the Halo 3 Spartan Security armor permutation was left out of the Halo 4 video game, I thought that ship had sailed and we'd never get a Halo Mega Bloks Spartan Security figure. The fact that the Security Spartan includes my favorite Halo gun ever–the Mauler–is the icing on the proverbial cake. For me, the gray Security Spartan figure is far and away the highlight of this 20-figure Halo Mega Bloks Series 7 figures lineup.
Wait a minute… did I say 20 figures…?
Yes I did!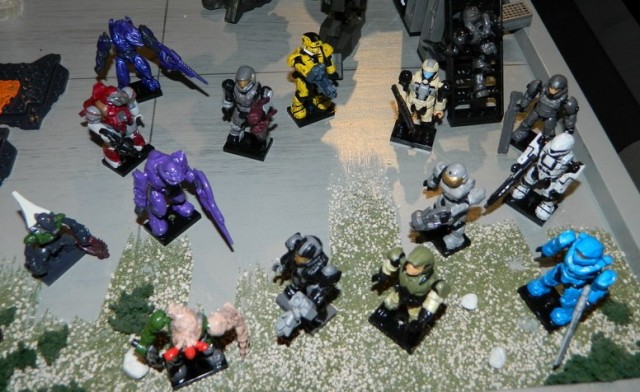 Like many hardcore Halo Mega Bloks fans, I'd heard the rumors that that Halo Mega Bloks Series 7 might be expanded to a sixteen-figure assortment instead of the traditional eight-figure assortment, and those whispers were correct. Not only that, but the (oddly) popular "Active Camo" colored clear Mystery figures will also be continuing into the Halo Mega Bloks Series 7 Hero Packs, with four new additions–for a total of
twenty
figures in the series.
Crazy!!!
Other notable figures in the Halo Mega Bloks Series 7 Mystery Pack blind bags that I'm looking forward to the most are the Human Flood figure, that awesome purple Elite Assault figure, the Halo 3 green Grunt (why haven't we gotten that figure before?), the white Spartan Scout, and bright yellow EOD Spartan figure.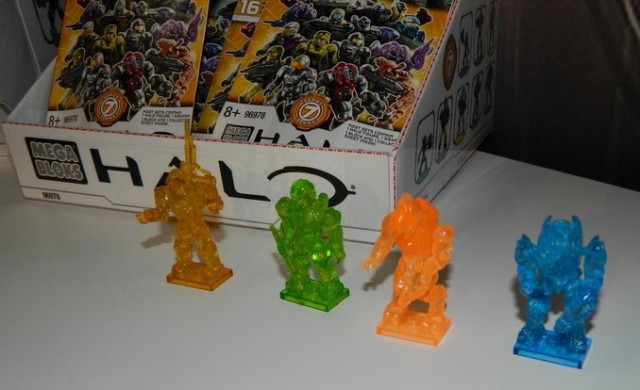 I also think it's worth noting some rare weapons that are new to the Mega Bloks Halo blind bags are coming in this set, including the Sentinel Beam and the Halo 4 Railgun that was introduced in the Halo Mega Bloks Cauldron Clash set just last month! As good as Halo Mega Bloks Series 6 assortment was, the Series 7 lineup simply blows it away as the best series of Mystery Packs ever.
Look for the Halo Mega Bloks Series 7 Figures to hit stores in mid-2013. If you'd like to pre-order the figures for delivery in May 2013 (likely before they hit retail stores), you can now order a full case of 22 Halo Mega Bloks Series 7 blind bags online at BA Toys.