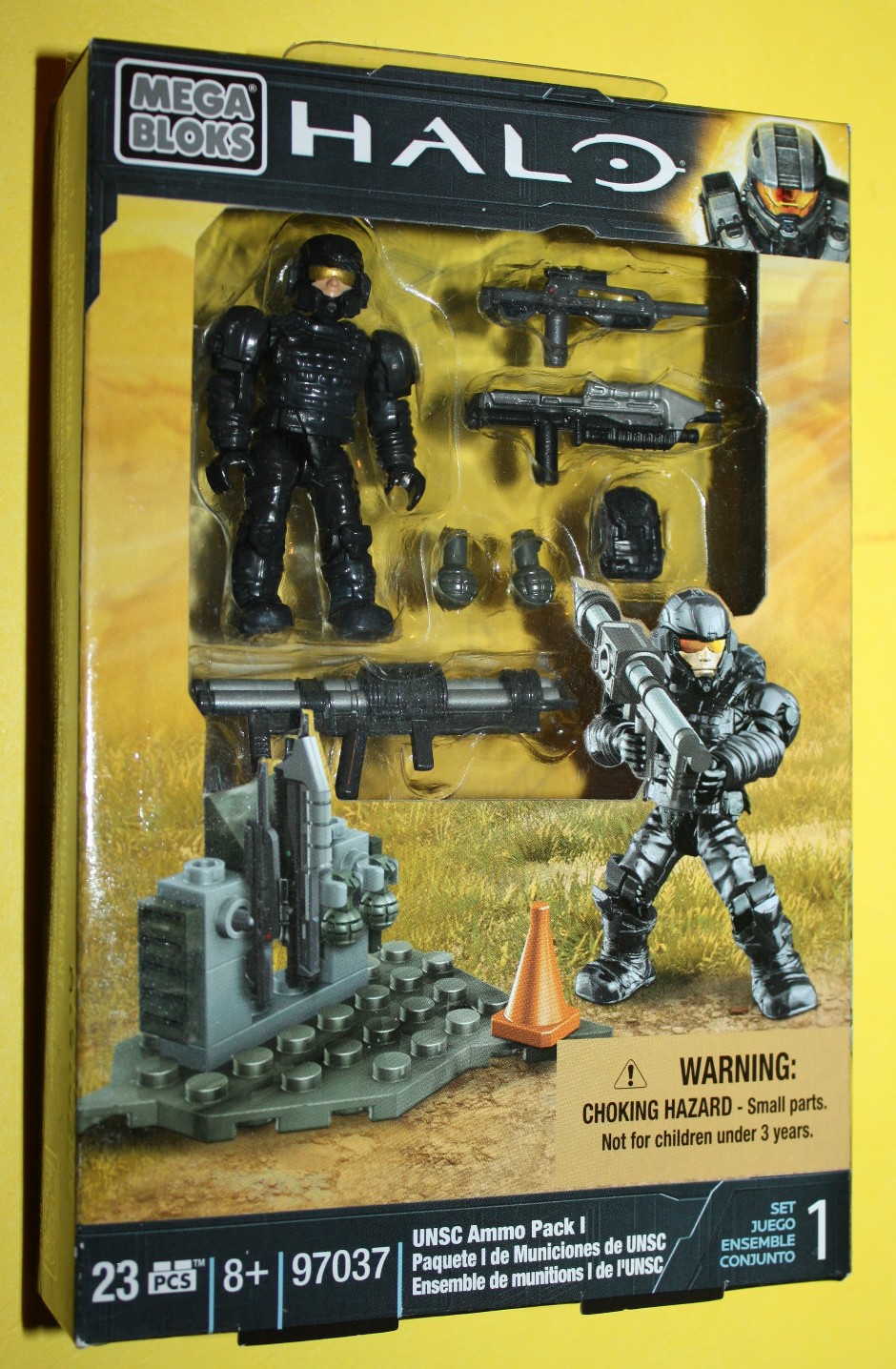 In a pretty big surprise, the Halo 4 Mega Bloks UNSC Ammo Pack 1 has started to arrive in America, despite being one of the 2013 sets. It's a little bit ahead of schedule, but I'm certainly not complaining about some new Halo Mega Bloks product hitting shelves just a bit early!
The highlight of this 23 piece 2013 Halo Mega Bloks set is the Halo 4 Marine figure included. This armored Marine is from the "Composer" level of Halo 4 toward the end of the game, and is specifically one of the Station Security Marines. I think it's awesome that Halo 4 only came out this month and MEGA Brands has already given us our first Halo 4-specific Marine figure–they were really on the ball with this one!
You can check out the original auction listing for the Halo Mega Bloks UNSC Ammo Pack I 97037 pack right here, though personally I'd recommend against paying the exorbitant price that the set is currently being listed for unless you absolutely can't bring yourself to wait for it.
This is the second of the 2013 Halo 4 Mega Bloks sets to hit retail, as the Halo Mega Bloks UNSC Cryo Bay 97088 was released earlier this month in limited quantities to select stores. The armored Marine figure looks a little monochrome and dull in the photo, but I'm hoping he's going to look more interesting in person.
Along with a small base and weapons rack, the set includes a backpack for the Marine, two frag grenades, a traffic cone (no, really), and three painted guns: a Rocket Launcher, an Assault Rifle, and a Battle Rifle. I always love and appreciate painted weapons, though the selection in Ammo Pack I is a little bit bland. I'll be thrilled next year when some more Halo 4 weapons start to be integrated into the Halo Mega Bloks line.
Look for the Mega Bloks Halo 4 UNSC Ammo Pack I to hit retail stores in mass toward the end of the year and into early 2013. It's about the same size as the Halo Mega Bloks Armory packs, so I'd anticipate a retail price of about $5.99 per pack.