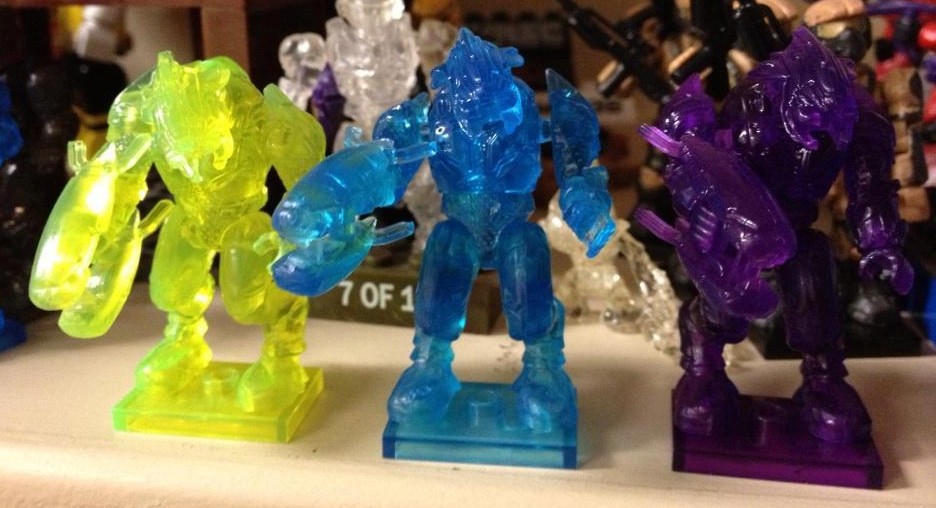 It's been a little bit slow on the Halo toy news front following last week's Thanksgiving holiday in America, but the news keeps on rolling in from Europe! As more and more collectors in the UK acquire their Halo Mega Bloks Series 6 Mystery Pack blind bags, some of the codes for these series are starting to come to light, so I've started up the Code Number List page here on Halo Toy News to share the codes and make everyone's buying experiences that much easier.
Remember, as of now, this set has only been found internationally, so when the Mega Bloks Halo Series 6 Hero Packs start to hit in America, the codes will very likely be different. We'll add codes from all countries to the list just as soon as the Halo Series 6 figures start to hit in force in America and elsewhere.
If these figures haven't hit your area yet or you want to order certain characters or a whole set without the hunt, there are plenty available for sale online right now.
For now, here's the start of the Halo Mega Bloks Series 6 Mystery Packs figures codes list:
Covert Ops Grey Spartan EVA — A03092MM
Tan UNSC Marine — A04092MM
Purple Spartan EOD — A05092MM
Gold Spartan Mark V[B] — A06092MM
Cyan Elite Combat — A07092MM
Covenant Grunt (Copper) — A10092MM
Covenant Jackal — A11092MM
Red Spartan Grenadier — A12092MM
Clear Lime Green (AKA  Mountain Dew) Elite Combat plus Bonus Figure — A13092MM
Clear Purple Elite Combat plus Bonus Figure — A14092MM
Clear Blue Elite Combat plus Bonus Figure — A15092MM
For more information on the Halo Mega Bloks Series 6 Mystery Packs,
check out this post I wrote when the set was first spotted at retail earlier this month
.
Also, I've gone ahead and posted a new poll to gauge the interest in this series of Halo Mystery Packs figures and see just how the popularity of the figures in this set match up. Personally, I voted for the Jackal, as I've been wanting to army-build those forever–but I'd be lying if I pretended that the wacky-colored clear Active Camo Elites figures didn't have a certain charm to them. Which is your favorite Halo Mega Bloks Series 6 Mystery Packs figure?

Loading ...