It's been unusually quiet on the Halo Mega Bloks front lately, but rejoice! There's a reason for Mega Bloks Halo collectors to be excited again: the Halo Mega Bloks Series 6 Figure Hero Packs have finally been fully revealed!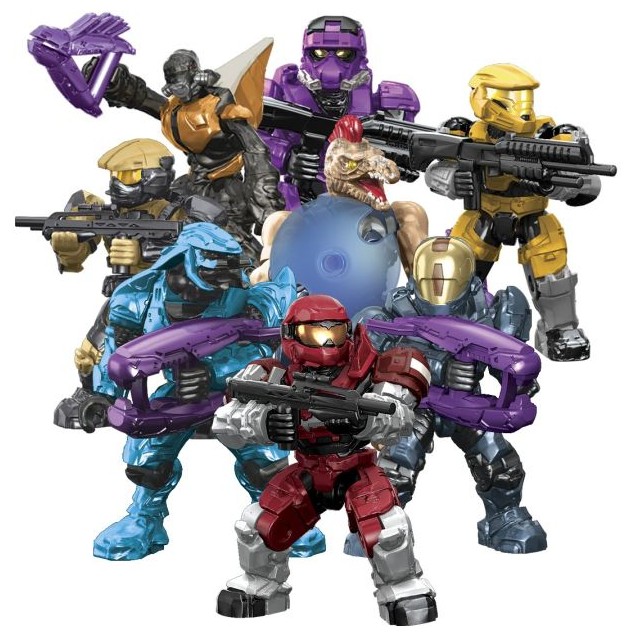 This is one of the–if not the–most stacked and exciting series of Halo Mega Bloks blind bags figures ever! So let's list off who's coming in this awesome assortment:
Spartan Grenadier (Red/Steel) with Battle Rifle
Covenant Elite Combat (Cyan) with Plasma Rifle
Spartan EVA (Stealth Black Spec Ops) with Plasma Rifle
Covenant Jackal with Needler and Energy Shield
Covenant Grunt (Copper) with Needler
Spartan EOD (Purple) with Shotgun
Spartan Mark V[B] (Gold) with Shotgun
UNSC Marine (Desert Camo) with Battle Rifle
Let's talk about what makes this set so phenomenal:
JACKALS!!!!! Fans have been waiting a long, long time for the chance to army-build Jackals without being required to be expensive mid-size sets like the UNSC Shortsword Bomber 96835 and the UNSC Hornet Attack 96867, and finally–finally–MEGA Brands has heard and is giving fans exactly what they want!
The new Grunt mold introduced in the Covenant Shade Turret set at the start of 2012 has finally made its way into the Hero Pack Mystery sets! While this Grunt's coloration looks suspiciously similar to that of the Grunts from Halo Mega Bloks Series 3, it's on the new and far superior mold, so it's definitely worth an upgrade.
Four Spartans in one series, and all of them are going to be hot and hugely-desired! Stealth Black Spartans and Purple Spartans are always popular and hard-to-acquire, while Spartan figure molds like the Grenadier and Mark V[B] are rarely-seen and exciting to get in a set of individual figures. The Gold Mark V[B] is a repaint of the Sabre Pilot from the UNSC Countdown 97017 set, so if you couldn't afford that set, now you have another chance!
The Cyan Elite Combat is the first Halo Mega Bloks Elite released in the Cyan color, and he looks sublime.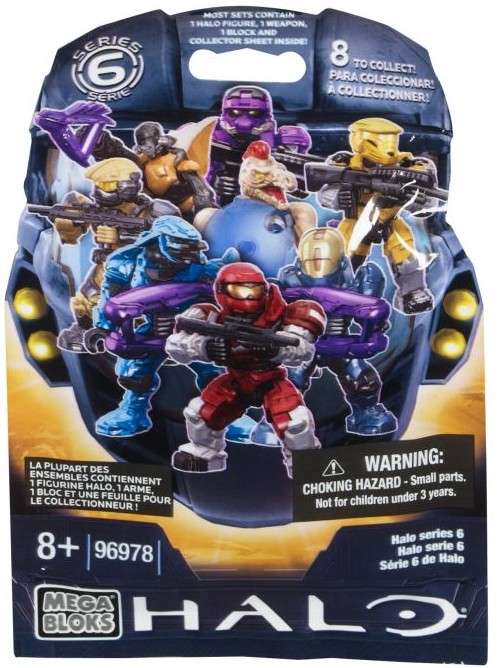 No word yet on what the common, rare, and ultra-rare figures in this set are going to be, but based solely on my own instinct and experience (and this is not fact
at all
), I would guess that the Ultra-Rare in this set will be the Red Grenadier, with the Jackal and the Stealth Black EVA Spartan as the Rare figures. That seems to follow the pattern most closely of how MEGA Brands has been picking the rare figures, but that is purely speculation.
Look for the Halo Mega Bloks Series 6 Mystery Packs to trickle into retail stores late this year, before hitting in full force as the first set of Halo Hero Packs Figures for 2013!