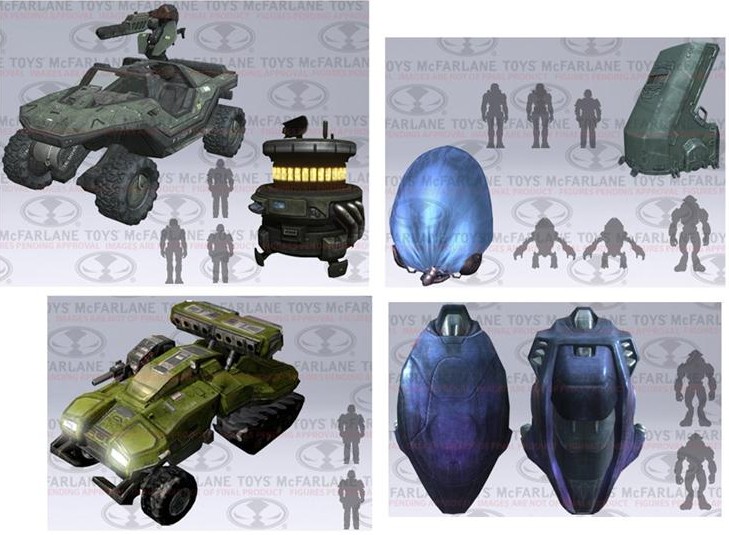 Halo Micro Ops Series 1 is still hot off the trucks and barely on store shelves, and McFarlane Toys has decided to reveal Halo Micro Ops Series 2 for 2013 while interest is high!
The complete listing for the 1:100 scale Halo Micro Ops Series 2 is as follows:
HALO: MICRO OPS SERIES 2 – SMALL CARDED SETS

UNSC Gauss Warthog and UNSC Shield Generator with Kat, UNSC Trooper Driver, and UNSC Trooper Gunner Figures
UNSC Wolverine with UNSC Marine driver and UNSC Flamethrower Unit Figures
Figure Pack 1 a Portable Energy Shield, a Small Barrier, and Jun, Jorge, UNSC Trooper, Elite General, Grunt Ultra, and Grunt Heavy figures
Covenant Drop Pods with two Elite Ultra Figures
HALO: MICRO OPS SERIES 2 – LARGE CARDED SETS

UNSC Scorpion with Halo 4 Master Chief and two UNSC Marines figures
Covenant Watchtower with a Jackal Major and two Jackal Sniper Figures
HALO: MICRO OPS SERIES 2 – SMALL BOXED SET
High Ground Missile Launcher with Rocket Warthog (Rockethog), Mongoose, and Spartan Warthog Driver, Spartan Warthog Gunner, Spartan Mongoose Driver, and Rocket Launcher Spartan Figures
Here's my extensive thoughts on this lineup…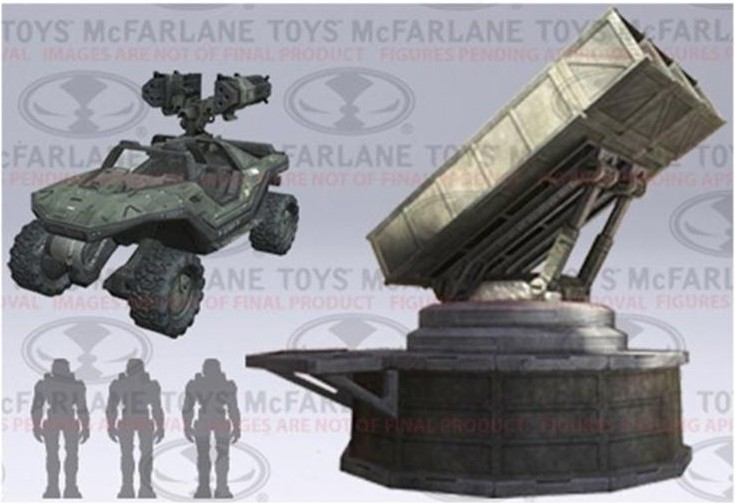 Alas, the poor UNSC Cobra. Always the Bridesmaid and never the Bride. After being passed up in the Halo Mega Bloks line for the UNSC Wolverine (which has now appeared as a Mega Bloks Halo vehicle on three separate occasions), the Cobra has been passed up once again by McFarlane Toys in favor of the popular anti-aircraft Wolverine. Will the Cobra ever have its day in the sun?
I'll reserve judgment in the figure pack until we have it in hand. The small plastic figure packs from the Mega Bloks Halo Universe die-cast line are almost certainly my least-favorite Halo Mega Bloks sets ever due to their poor value and terrible quality-control. I'm hoping McFarlane Toys gives us unique (non-reused) figures at their usual level of excellence here. Also, the set includes an Energy Shield, and I am a total sucker for Energy Shields.
The Gausshog and Shield Generator set is nice for several reasons. We don't get Gauss Cannon Warthogs very often from any company, so it's always good to see one in a new scale. The UNSC Generator is a terrific idea, as it adds play value to the whole line and really gives your Spartans something to protect with their little plastic lives. Finally, the Gausshog set includes Noble-2, Kat. Between this set and the Micro Ops Figure Pack 1, McFarlane Toys will have fully assembled all of Noble Squad already in the Micro Ops scale (Carter, Emile, and Noble-6 were in Micro Ops Series 1.
The Covenant Drop Pods set doesn't really excite me. Considering you can get a Halo Mega Bloks Covenant Drop Pod for 10 bucks with a super-articulated Elite figure and a scaled Covenant Drop Pod, the notion of paying almost the same price for two tiny Drop Pods and two miniature unarticulated figures has very little appeal. That's not to say I won't buy the set anyway–I dig Elite Ultras–but this is certainly the least-compelling set in the assortment for me.
I know what McFarlane Toys was thinking when they wrote the set description text, but am I the only one who laughed out loud when the Covenant Watchtower features "a working gravity lift"? If McFarlane Toys has that kind of technology, they should be expanding out of the toy department! Heh. But seriously, I think this set has potential and could be loads of fun. I love that the set comes with multiple Jackal Snipers, though I'd have liked a Beam Rifle with one of them (yes, I know the set is based off "Halo Reach", but still).
The UNSC Scorpion was a vehicle that was always going to be a lock for the Halo Micro Ops line, and I'm honestly surprised that we didn't get it in Series 1. We just got a fairly decent die-cast Scorpion in the Halo Mega Bloks line earlier this year, but I'm interested to see McFarlane Toys' take on the legendary tank. Also, the fact that the tank comes with an official Halo 4 Master Chief figure in the Micro Ops scale is a huge selling-point and makes this set a very desirable one.
The High Ground Missile Launcher playset is the Small Boxed Set in Halo Micro Ops Series 2. I'm curious to see how these somewhat-expensively priced sets do at retail. I absolutely want this set, as it includes my beloved Rocket Warthog, but even I have to admit this Boxed Set is light on figures–two permanently sitting Spartan drivers and one Rocket Launcher Spartan just doesn't seem like a lot to play around with. Including a Rockethog and Mongoose is great, but it takes a lot of the punch out of the set for it to be so light on figures.
Overall, this looks like a very strong second series offering by McFarlane Toys. Halo Micro Ops Series 2 is scheduled to be released in January 2013 as part of the early 2013 Halo assortments. You can check out the full set descriptions on the official McFarlane Toys website, and all of these sets are available for pre-order now right over at BigBadToyStore.