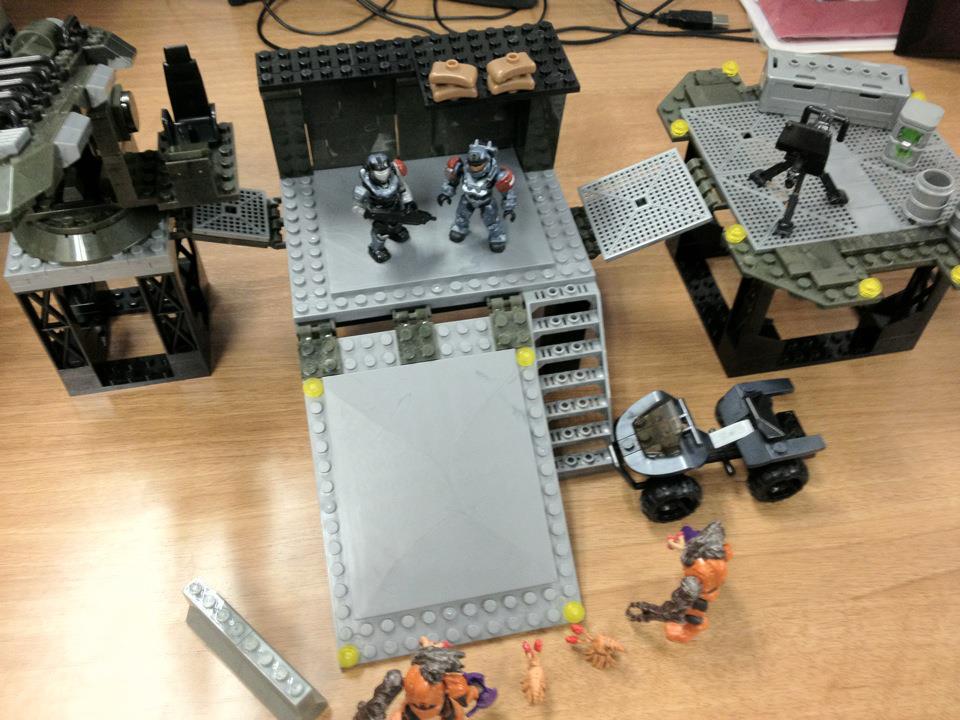 When it rains Halo Mega Bloks, it pours Halo Mega Bloks. Hot on the heels of the Toys R Us Exclusive Battle Unit being found last week, another new set has been found: the Flood Siege 97071. This is another set in the Covert Ops themed packaging and it seems to be a Toys R Us exclusive, although oddly enough, it lacks "Covert Ops" in the set name and doesn't have a "Toys R Us Exclusive" sticker on the box. Flood Siege contains 426 pieces and should retail for $45-$50, but with Toys R Us' rapidly-changing prices, the price-point could really end up anywhere.
By far the most exciting and interesting facet of this set is that it includes our very first Halo Mega Bloks MAC Cannon! Yes, the most potent weapon humanity has against the Covenant, the Magnetic Accelerator Cannon, can now be built and used to fend off your Halo Mega Bloks Seraph and Orbital Banshee!
In addition to the MAC Cannon, you get four (or six) figures with the Halo Mega Bloks Flood Siege 97071: two orange Flood Combat Form figures, two Flood Infection form PVC figures, a gunmetal grey Air Assault Spartan (that looks like Kat), and a gunmetal grey Grenadier (that really looks like Jorge).
There have been so few Flood Mega Bloks figures released in the line that it's really great to get two Infection Forms and two more Combat Forms in the same set. And while this is still the exact same Flood Elite Combat mold we started getting with the Flood Drop Pod earlier in the year, everything is better in orange!
The Halo Mega Bloks Flood Siege 97071 set is shipping to Toys R Us stores right now, so if you want one, you should have some luck if you check your local Toys R Us every day for the next week or so.
Thanks to user MWCarlson for the photos, and you can check out all of his photographs of the Flood Siege set and his review of the set on The Bloks Forum by clicking right here!