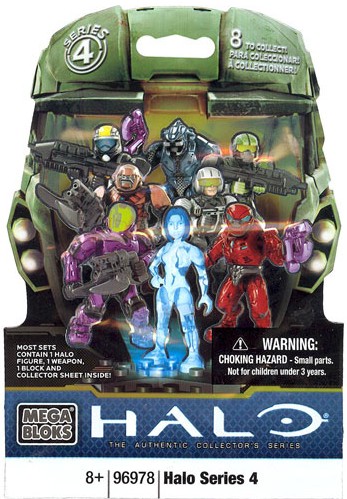 Apparently the fourth time is actually the charm, because the Halo Mega Bloks Series 4 Mystery Pack Blind Bags are the first set to include a totally original, all-new figure mold: the female A.I., Cortana! Legendary for her co-starring role as the Master Chief's partner in all of the Halo trilogy video games, Cortana is making her Mega Bloks Halo debut as the ultra-rare figure in this blind-bagged series! So as not to drive collectors insane (or broke) hunting this vital character down, I've included the complete list of Halo Mega Bloks Series 4 codes below.
Other than Cortana, this isn't the most exciting series. The purple EVA Spartan will add some much needed purple to any Spartan army, and I really like the Arctic UNSC Pilot, but otherwise this set is a bit dull. But hey–you can never get enough green UNSC Marines!
Be aware that the code number A19101MM can contain one of two different figures: the UNSC Arctic Marine or the Purple EVA Spartan! There have been many reported sightings of both figures in bags with this shared code. Most likely, the factory made a mistake and switched the numbers when they did a new run. It isn't customary at all for MEGA Brands to have two figures with the same code number, so this is almost certainly a goof-up. The best way to determine whether your A19101MM blind bag is a purple EVA or an Arctic Pilot is to feel the contents for the Brute Shot or helmet. I've starred this code number in the lists below.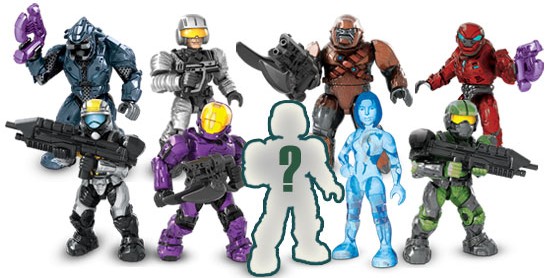 Crimson Elite Pilot
[Common]
— A22091MM, A13101MM, A08111MM, A22111MM, A16121MM
Green UNSC Marine [Common] — A17091MM, A12101MM, A02111MM, A12121MM
Copper Brute [Common] — A21091MM, A17101MM, A07111MM, A21111MM, A15121MM
Blue Elite Combat [Common] — A20091MM, A14101MM, A04111MM, A18111MM, A14121MM, A18121MM
Arctic UNSC Pilot [Common] — A16091MM, A10101MM, A19101MM*, A0111MM, A15111MM, A09121MM
Yellow UNSC ODST [Rare] — A19091MM, A18101MM, A03111MM, A07111MM, A17111MM, A13121MM
Purple Spartan EVA [Rare] — A09022, A23091MM, A19101MM*, A09111MM, A23111MM, A19121MM
Cortana Female A.I. [Ultra Rare] — A20121MM, A24091MM, A20101MM, A10111MM, A24111MM, A10022MM