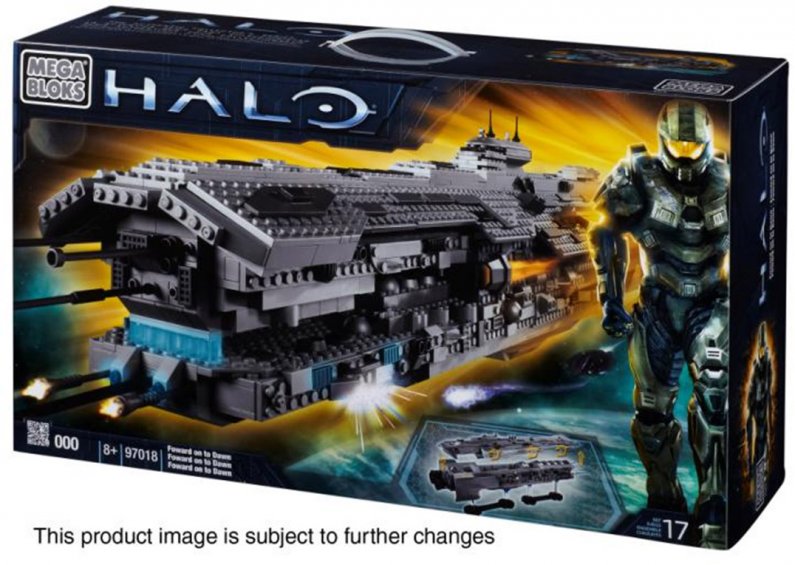 When asked for release info for the Covenant Spirit in the Facebook Q&A we reported on last week, MEGA Brands replied that "No news for that yet, but something big is coming." Now we know what. Over on the great SpartanBloks forums, a photo of a brand-new, unannounced Halo Mega Bloks set was posted that came straight from a UK Distributor: the "Forward Unto Dawn".
The Forward Unto Dawn is the UNSC frigate at the end of Halo 3 that gets split in half, trapping the Master Chief in deep space for years. The ship prototype we see here doesn't necessarily look like the Forward Unto Dawn, but more like the UNSC Infinity that we know will be so prominent in Halo 4. It's very possible that this set was in development before the UNSC Infinity had an official name, or that this set could be a different UNSC ship altogether.
It's been confirmed via the official Halo Mega Bloks facebook that this is a very old photo of a prototype box, and that the set will in fact contain figures, even though they are not shown in the prototype photo.
More information on this set is supposed to be released soon, and my best intuition tells me that that time is going to be by about two and a half weeks from now, at San Diego Comic-Con 2012…
Stay tuned. We'll post more details once MEGA Brands releases them.
Related Posts: