Over the weekend I reported on the Halo: Micro Ops Series 1 Small Carded Sets and the boxed High Ground Gate set, and today we have the final two sets in Halo Micro Ops Series 1: the large-carded Falcon and the High Ground Bunker.
Halo Micro Ops Series 1 Falcon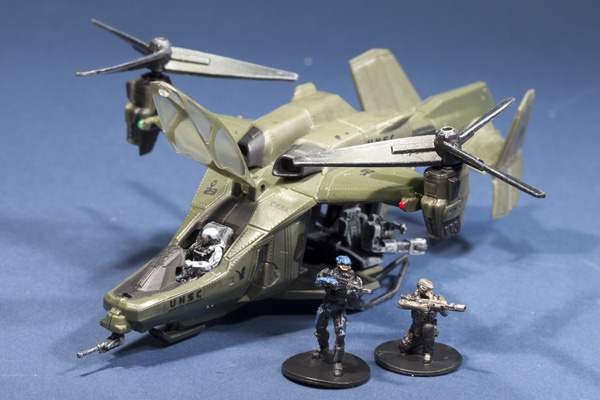 The Falcon is a vehicle that McFarlane Toys teased us with at Toy Fair 2011 for the 6″ line of Halo figures, but the full-sized Falcon never came to fruition. Now McFarlane Toys can finally add the Falcon to their product line–just in a much smaller size than we originally anticipated!
The Falcon features the two features you'd expect to see in this type of vehicle: the hatch can be opened and closed to insert the pilot (obviously), and the dual propellers are able to be rotated and spun freely.
The Falcon comes with a total of three figures including a UNSC Trooper and a Spartan Pilot, but the big inclusion is Carter (Noble-1), the leader of Noble Squad from Halo Reach! As I said in my previews for the small-sized sets, I really like getting named characters such as the ODSTs and Noble Squad members in these micro sets. That's one thing I really wish we were able to see more of over in the Halo Mega Bloks line.
Halo Micro Ops Series 1 High Ground Bunker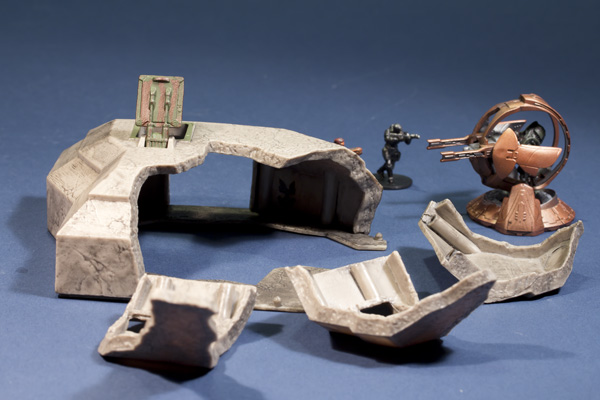 The other set in the large-carded portion of Halo Micro Ops Series 1 is the High Ground Bunker. In my opinion, this is probably the single-coolest set in all of Halo Micro Ops that we've seen so far. The High Ground Bunker can take battle damage and you literally explode away portions of the Bunker! I was really surprised to see this feature, but it easily makes this the most dynamic and fun Halo Micro Ops sets.
The High Ground Bunker also has a working trap-door on top, and includes a Covenant Shade Turret! The Shade Turret seems a little bit oddly-placed in this set, but I'm happy to have it with no gripes whatsoever.
Although High Ground is one of the most popular multiplayer maps ever, this set doesn't just include multiplayer Spartans. Like the Falcon, it contains three figures: a Grunt, a UNSC Marine, and a multiplayer Spartan.
The Halo Micro Ops Falcon & High Ground Bunker are scheduled to be released in August and both are available for pre-order over at BigBadToyStore at their expected retail price of $17.99.
Related Posts: